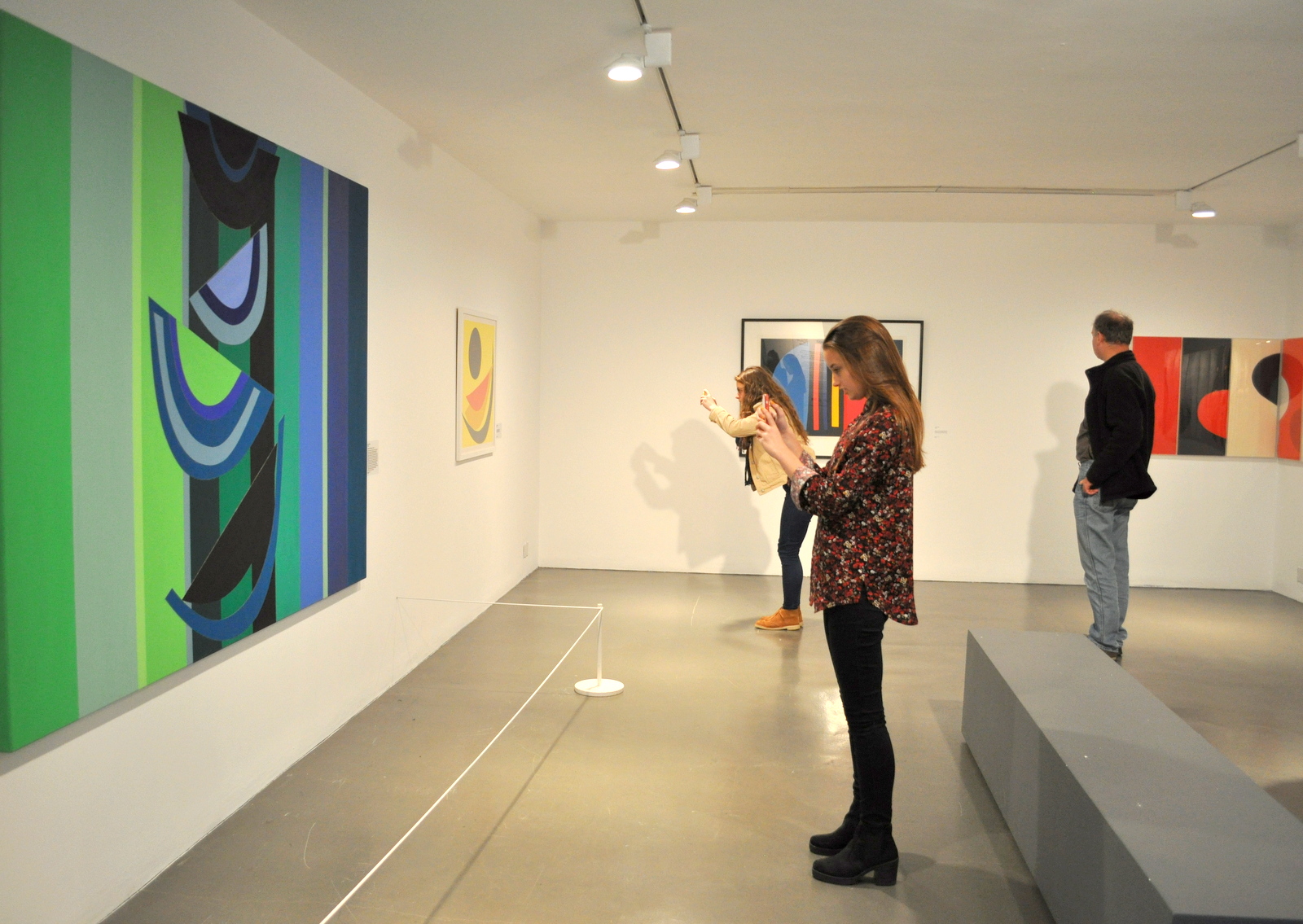 Newlyn Art Gallery's Sir Terry Frost exhibition – Green Below, 2003, the last painting by the artist
I felt so privileged during the Christmas break to have visited a most wonderful – and certainly colourful – exhibition of works by leading modernist painter Sir Terry Frost (1915 – 2003). It was a treat for my birthday and would have been a treat for any occasion and for anyone in the vicinity of Newlyn and Penzance – two very popular resorts in the extreme south west of Cornwall. The exhibition was divided between the two galleries – Newlyn Art Gallery exhibited his later work and Penzance's The Exchange was showing some of his earlier work – bringing together some of his most acclaimed paintings, sculptures and collages from public and private collections across the UK. There were works from his life in St. Ives in the early 1950's, his time away from Cornwall and his return to the county when he took up residence and a studio in Newlyn in the 1970's until his demise in 2003. And all was organised by the Tate St Ives in consultation with Sir Terry Frost's estate and in collaboration with Leeds Art Gallery and the two galleries in the south west. He was one of the artistic greats of his time along with fellow artists Peter Lanyon, Ben Nicholson, Roger Hilton, Mark Rothko, Victor Pasmore, Adrian Heath and Barbara Hepworth – all of whom were his friends or colleges.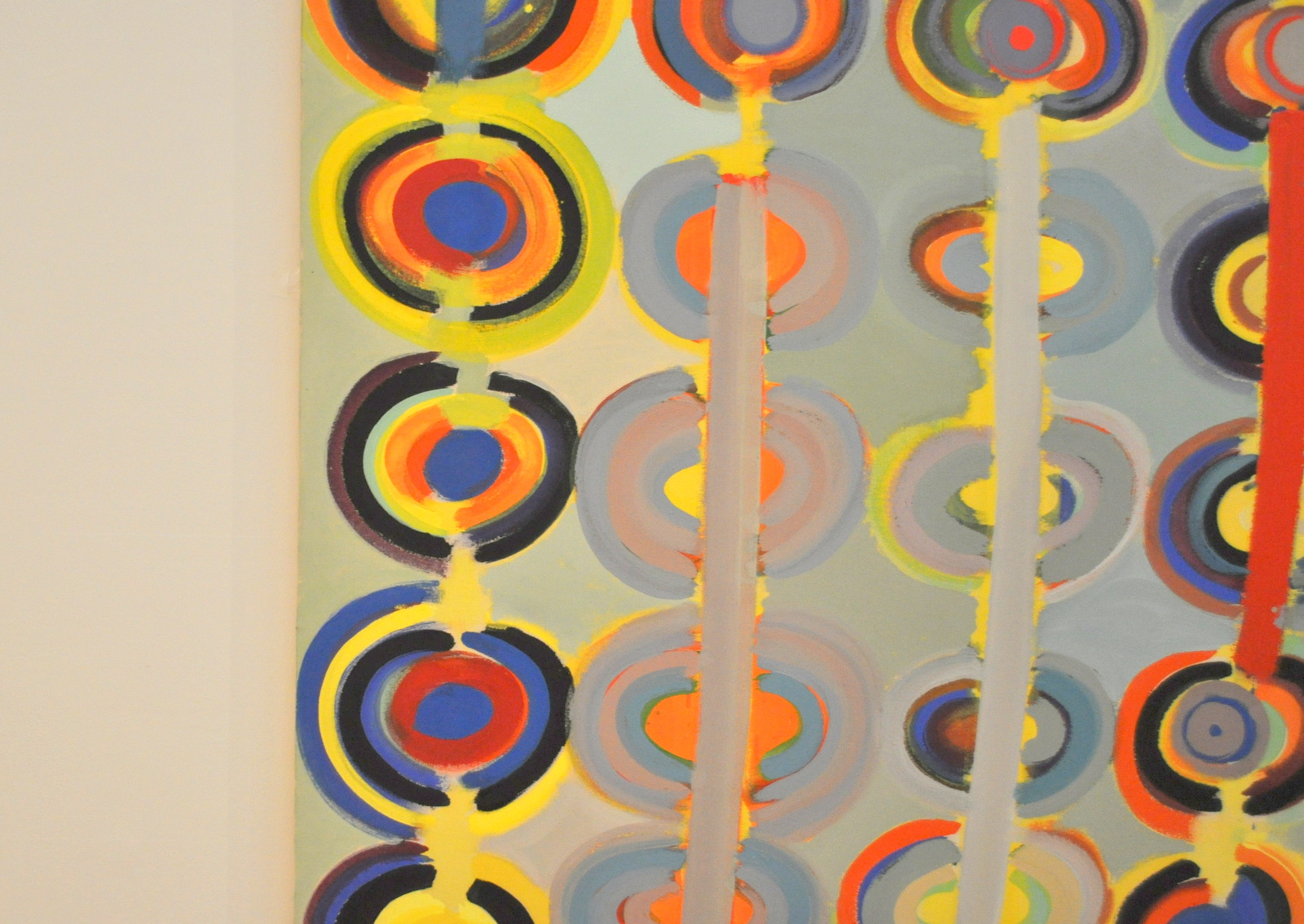 Autumn Rings Andueze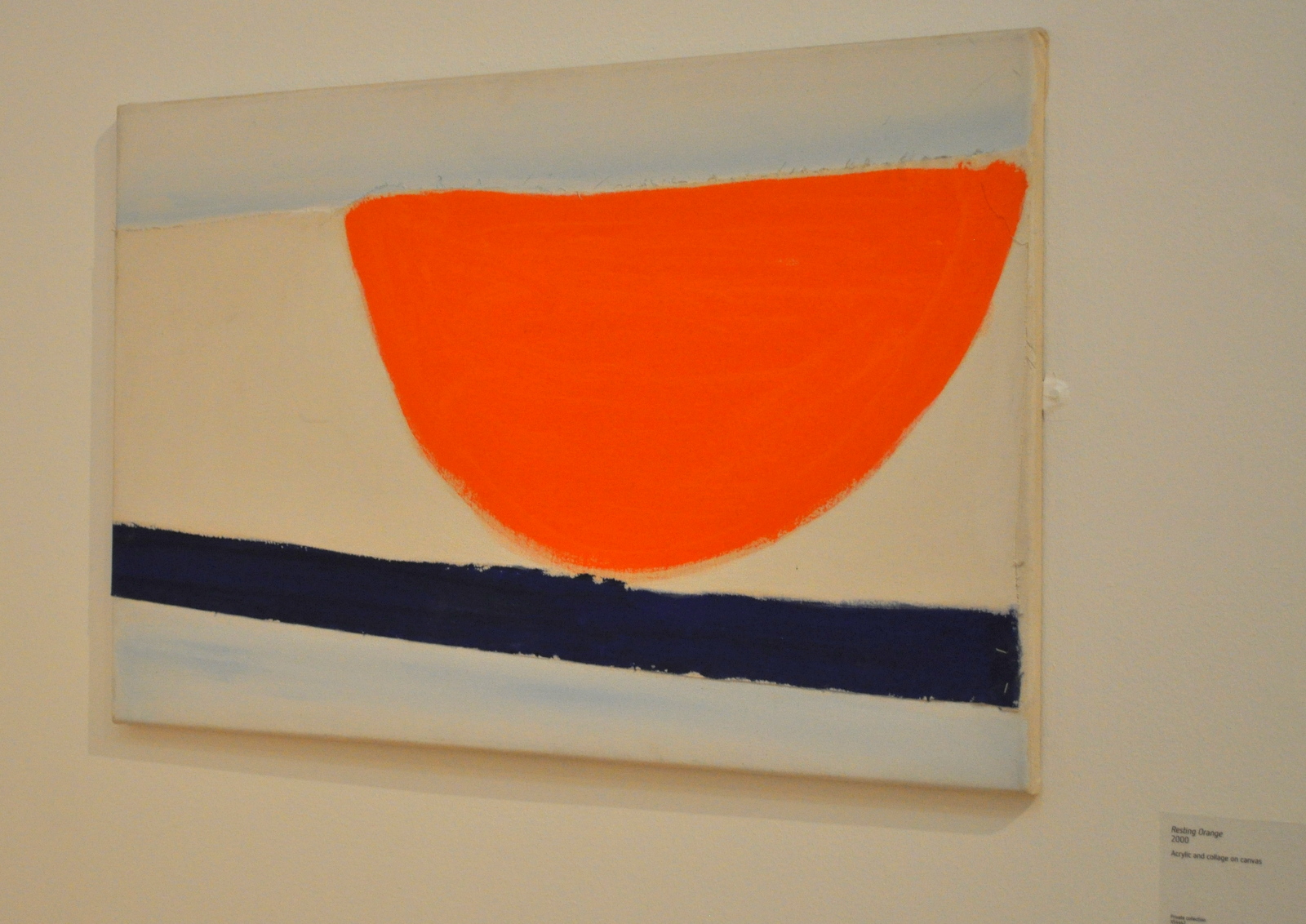 Resting Orange 2000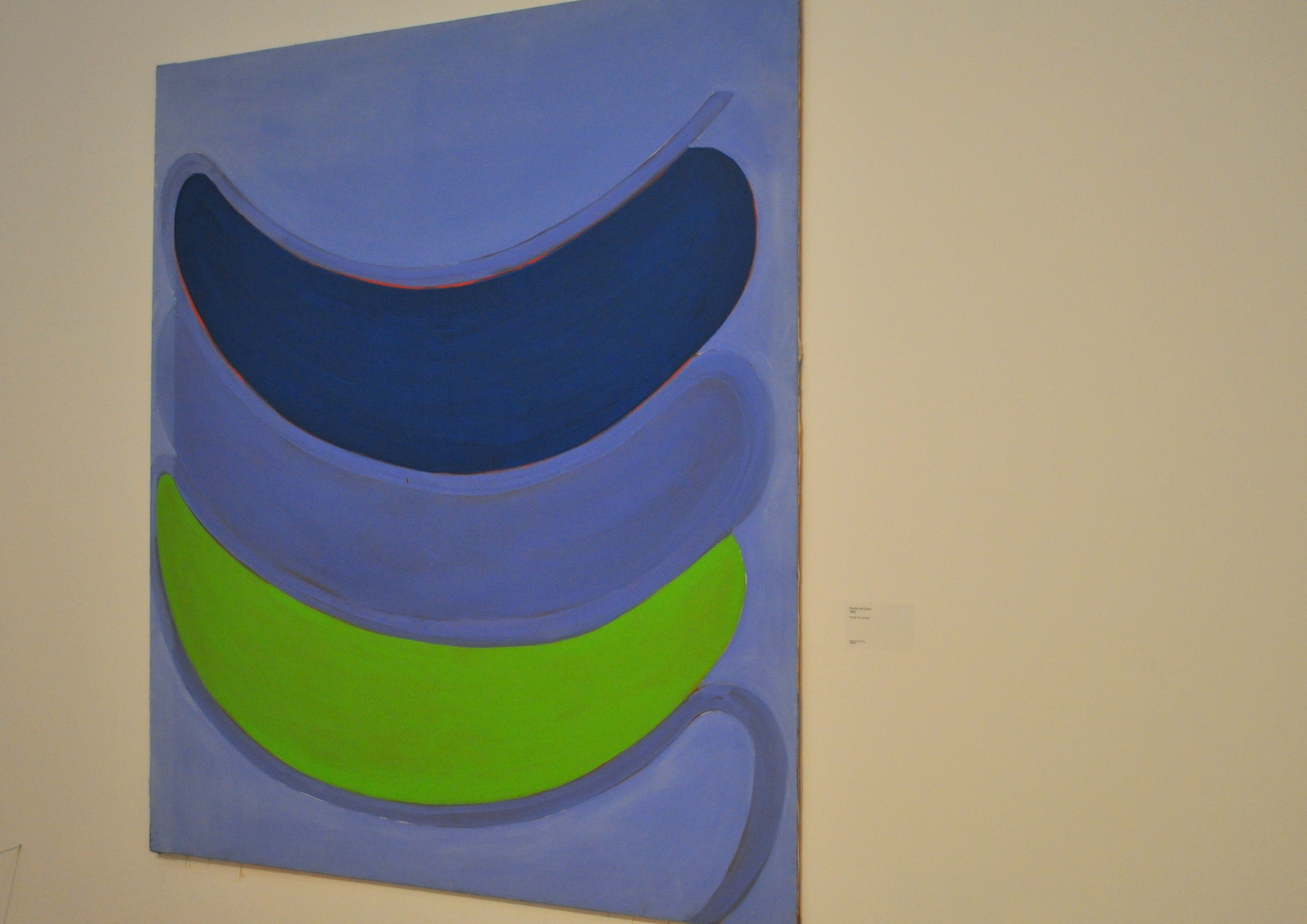 Purple and Green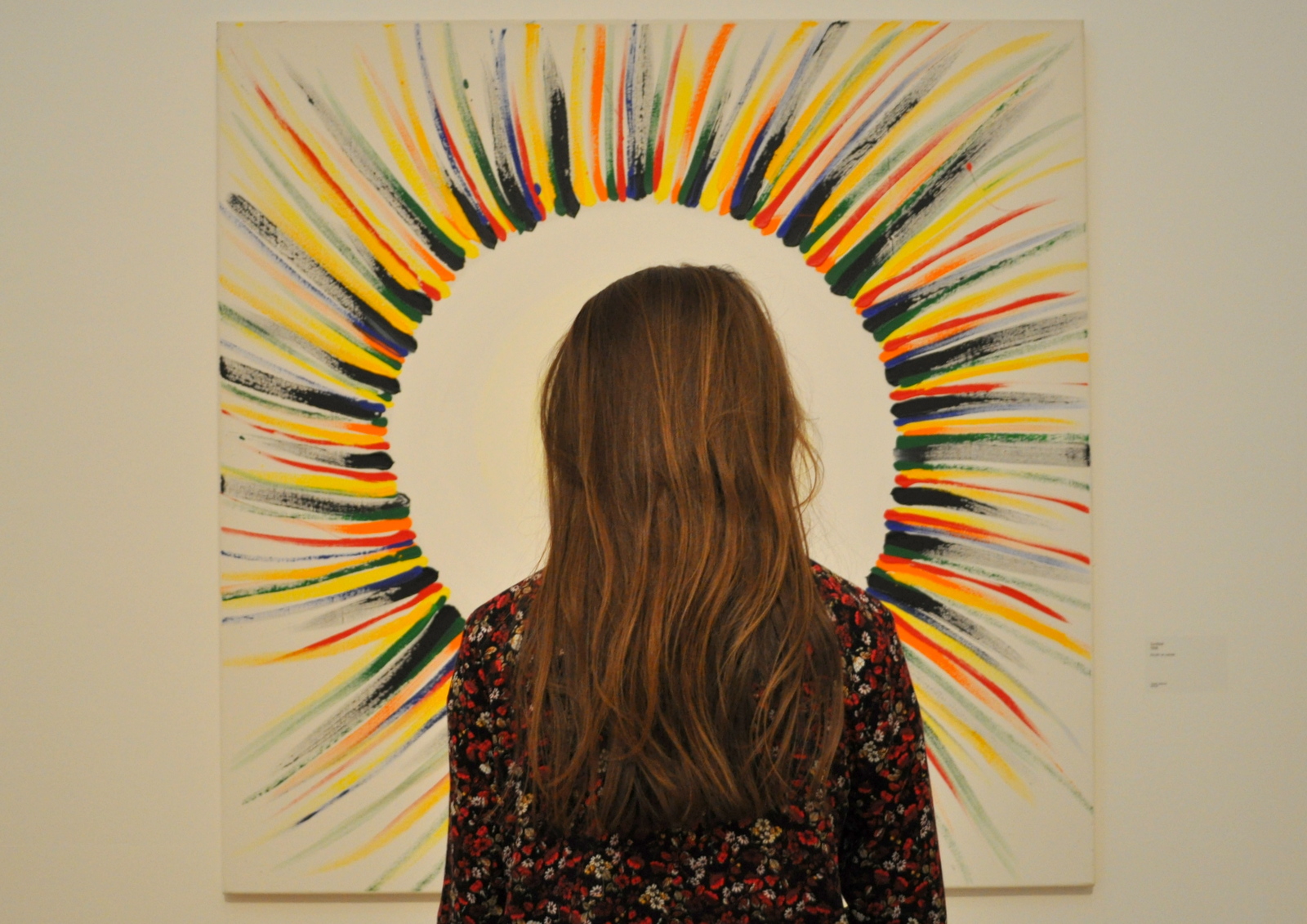 Sir Terry Frost's Sunburst framing Clemmy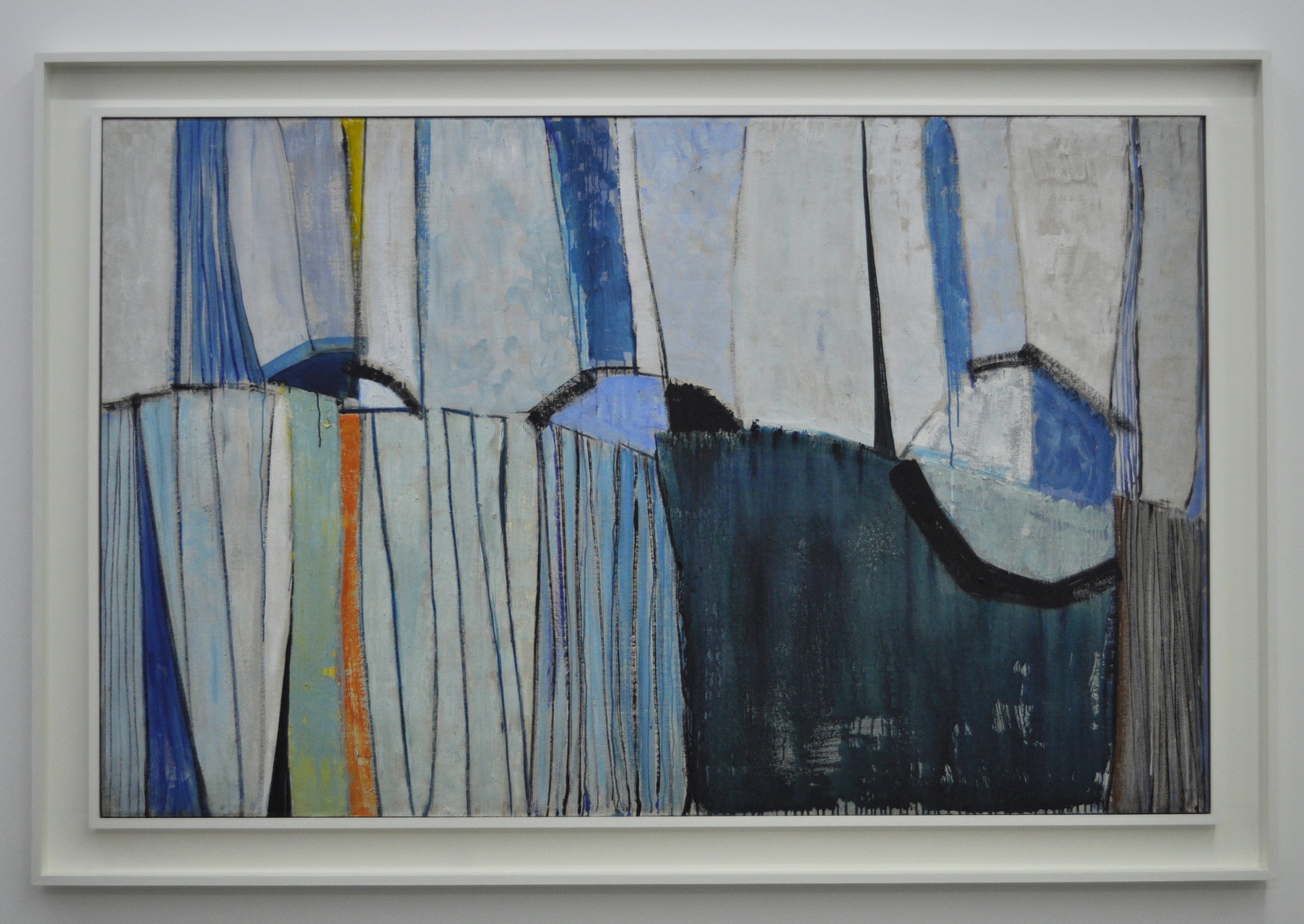 Blue Winter 1956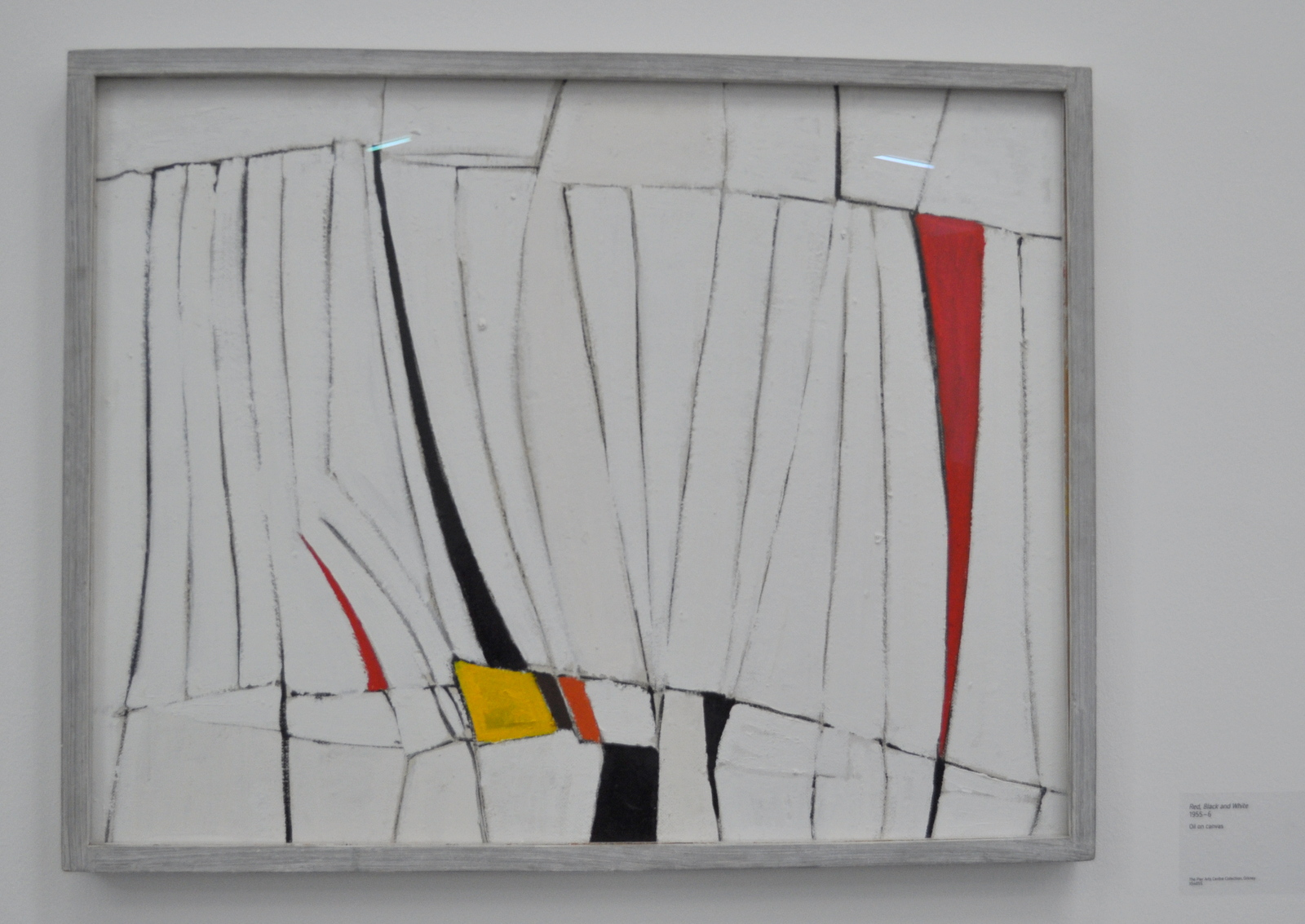 Red, Black and White 1955-6
I have admired this great mid-twentieth century artist for a long time and felt lucky that I had the opportunity to see some of his original work and prints. I love the way Sir Terry Frost used colour and simple forms to create impact with his paintings – they impart an energy and intrigue. And continue to be admired by many well into the twenty first century and I foresee will continue to influence art of the future. Sir Terry Frost and the other great names of that era were bold innovators of form and colour and they have most certainly impacted upon my art works.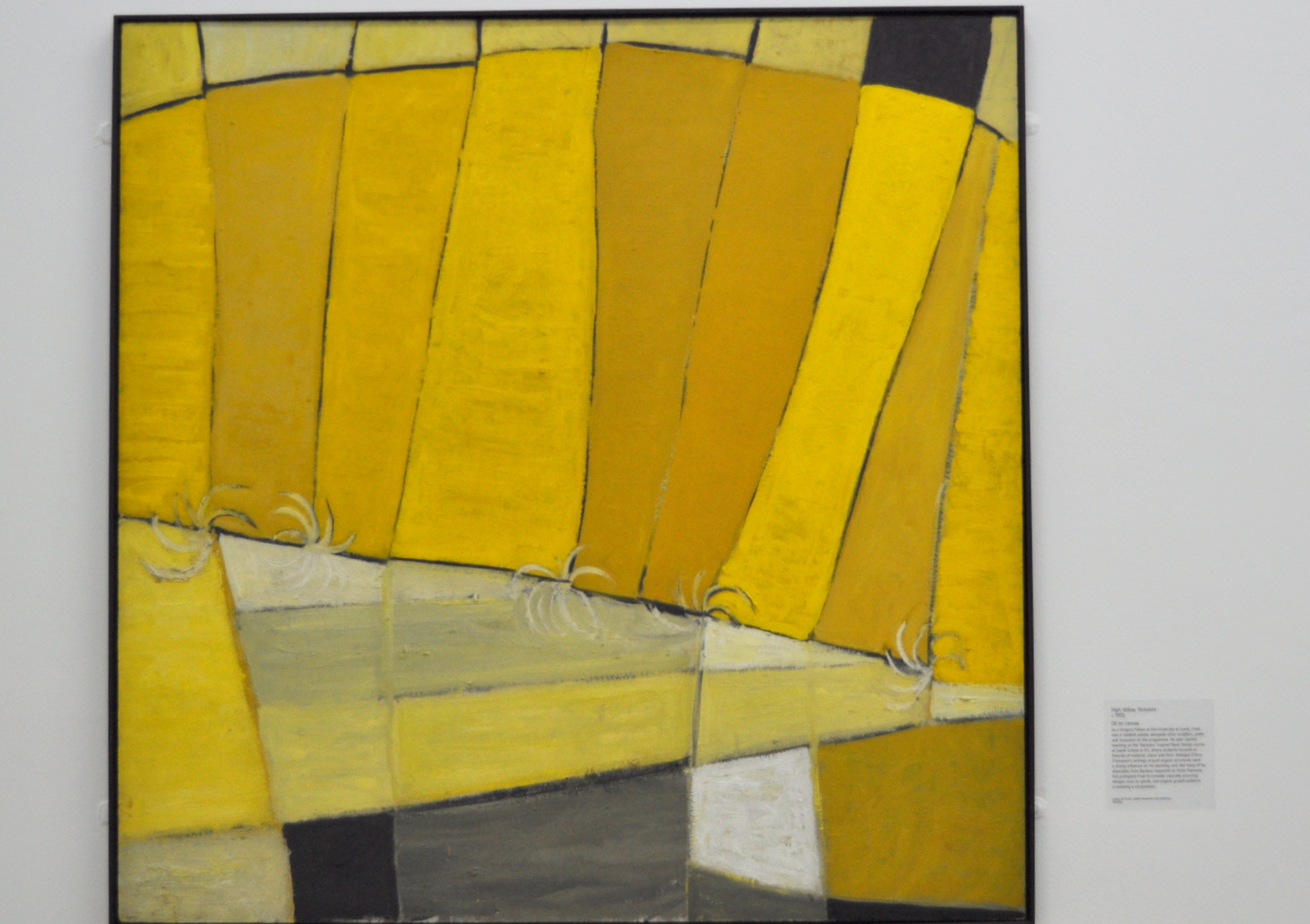 High Yellow, Yorkshire, by Sir Terry Frost c.1955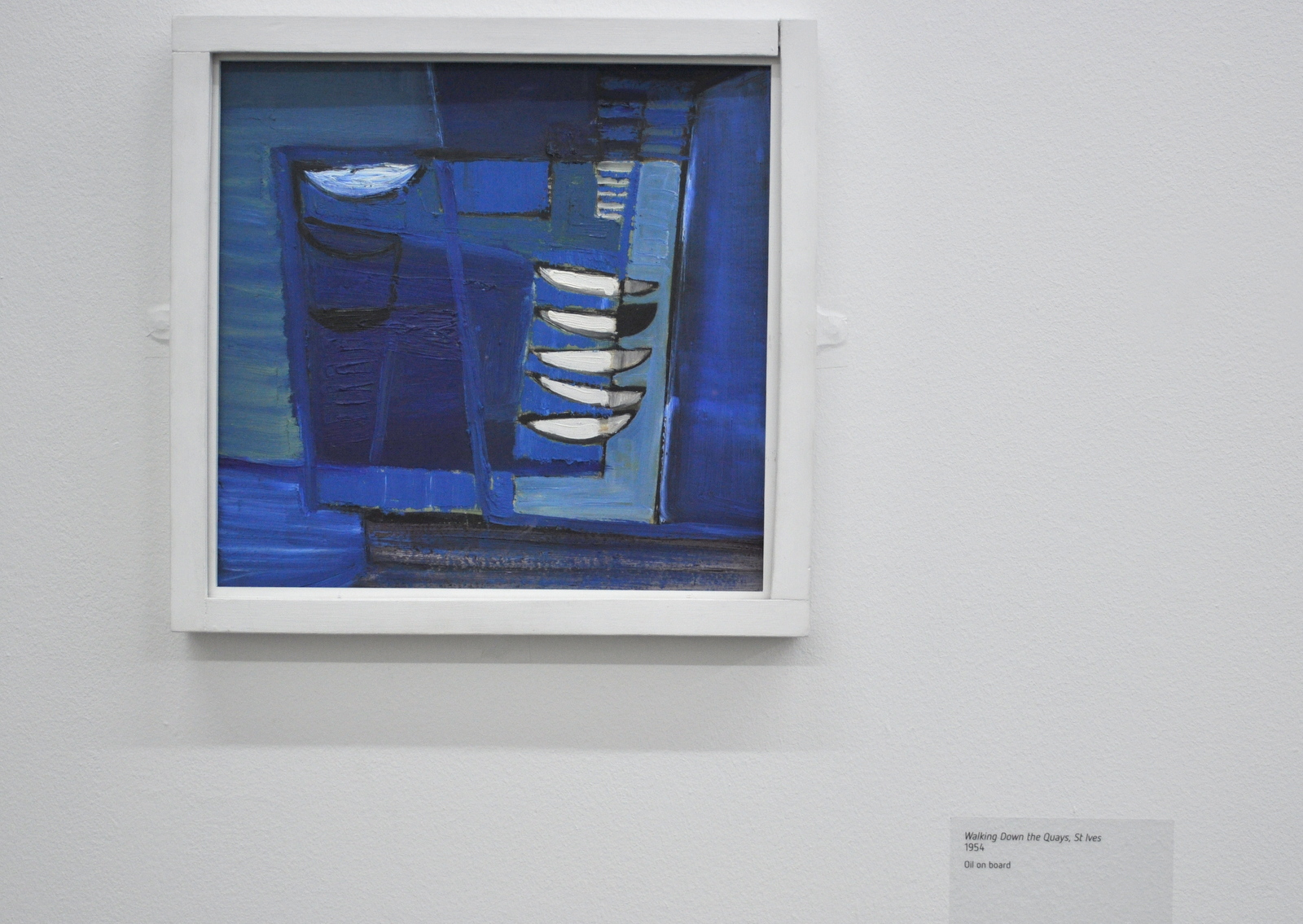 Walking Down the Quays by Sir Terry Frost, 1954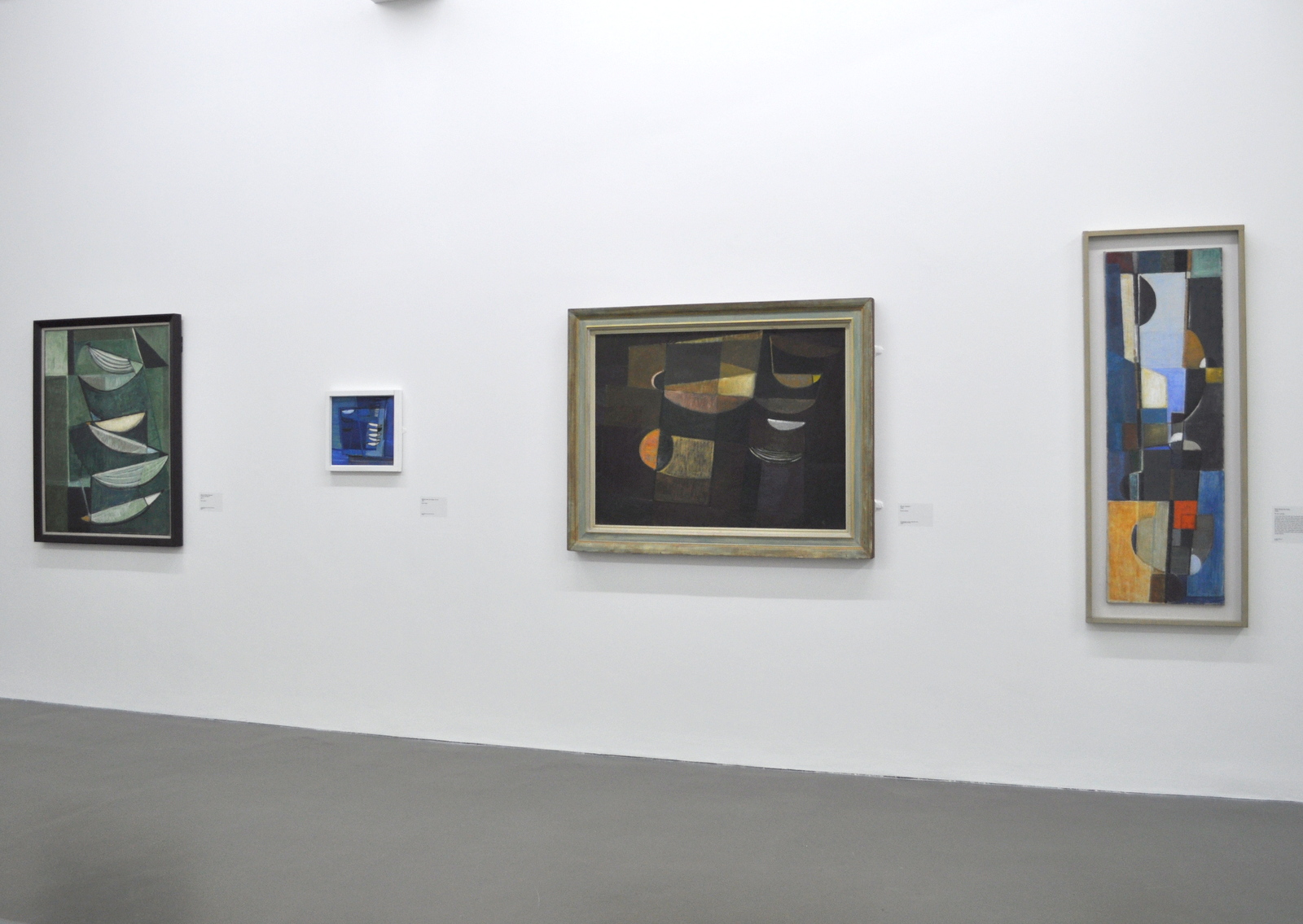 A Sir Terry Frost display at The Exchange in Penzance
Sadly, the Sir Terry Frost exhibition has now ended in the SW but the Newlyn Art Gallery and The Exchange continue to offer some exciting works by local and national artists – and in such great locations too – who could possible resist calling by!
Both galleries have there own cafes but the Old Coastguard in Mousehole is a treat with sea views in which to dine too – we did and we were not disappointed – I can recommend the Sticky Date Pudding with brandied prunes and hazelnut ice cream; and the crème brulee and the lemon verbena panna cotta where also good enough to die for!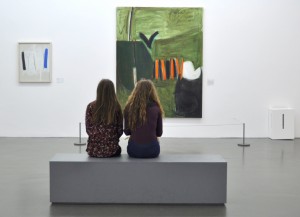 Contemplating Force 8 (1960) at The Exchange, Penzance
Diane x
---