YEEHAW – What a busy weekend the last one was. But the highlight was visiting the beautiful Lost Gardens of Heligan – near Mevagissey in Cornwall – to see the fantastic Miracle Theatre perform faultlessly once more. We have been following the Theatre's performances for the past three years and we haven't once been disappointed. The greatest compliment to the performers is that our teenagers love them too – and we know how fickle teenagers can be – they laughed and laughed all the way through Saturday night's saga of gun slinging, whiskey swigging and fast paced brawling – well kind of fast paced! In fact, we were all in fits of laughter. On this occasion they were performing the Magnificent Three; a spaghetti western adventure on a tiny transportable stage with a backdrop of rhododendrons in Flora's Green in the Northern Gardens. The large flat lawn sheltered by giant rhododendron bushes offers a perfect place to picnic and to be entertained. Of course we took a picnic and some comfy folding chairs – as instructed when the tickets were purchased. It was a mild evening, but not a bright sunny one and so light coats and blankets were required to keep any chill away. We turned up as the gates opened and already a queue had formed – those eager to get prime front row positions. Our spot centre to the stage – though three rows back – was quickly secured with a picnic blanket, chairs and picnic hamper. For a while there was a lot of shuffling around until everyone was content with their pitch. I was content when the cork to the bottle of prosecco was popped and the music began to play marking the beginning of the story. And as The Magnificent Three is touring across the wild south west until the 29th August I cannot divulge too much about the story other than it is about the wild west, a person's greed, a watering hole called Hope Springs and that there are six talented performers – not three! And that it has been magnificently written and directed by Bill Scott and music by Tom Adams. What I can share with you are some of the pictures I managed to snap in between the excited bobbing heads in the two rows in front of us – we'll have to get wiser and arrive earlier next time.
Setting the scene and waiting for action.
And the action begins….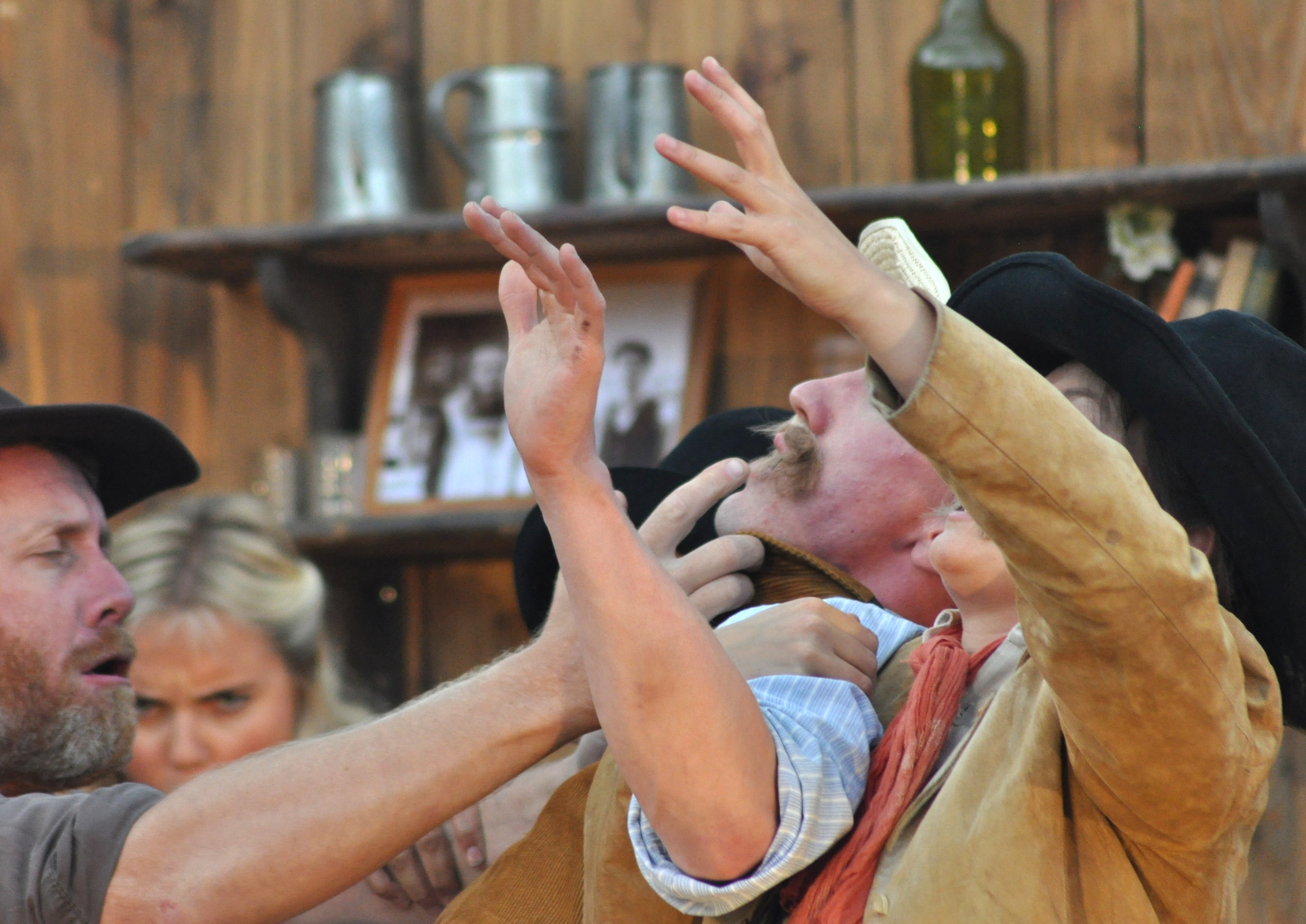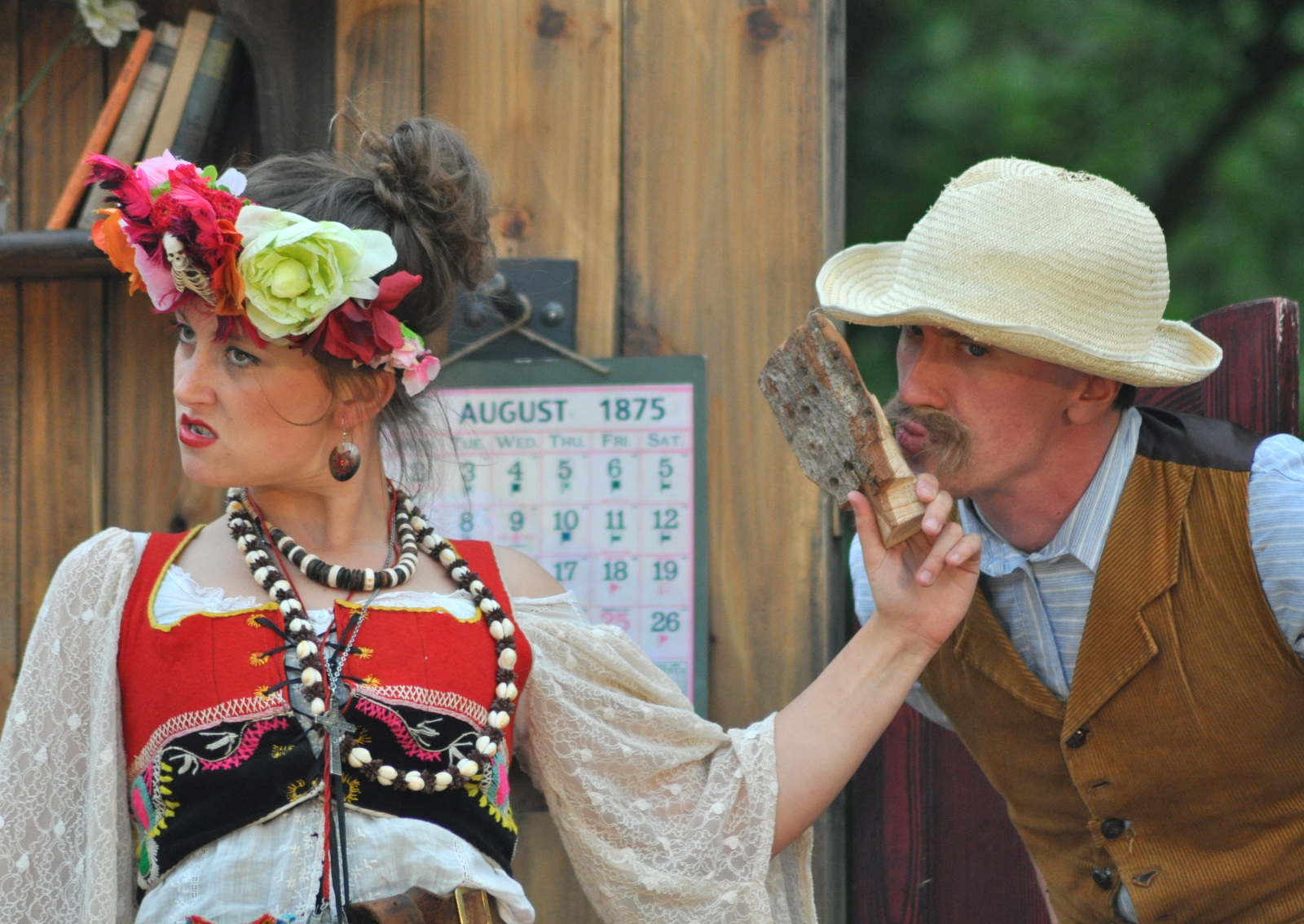 Then there was an interval where we just had to eat cake – my home made chocolate brownies with splodges of lightly whipped cream mixed with a little Bailey's Irish Cream. They tasted even better served outdoors on a napkin. My most indulgent chocolate brownie recipe.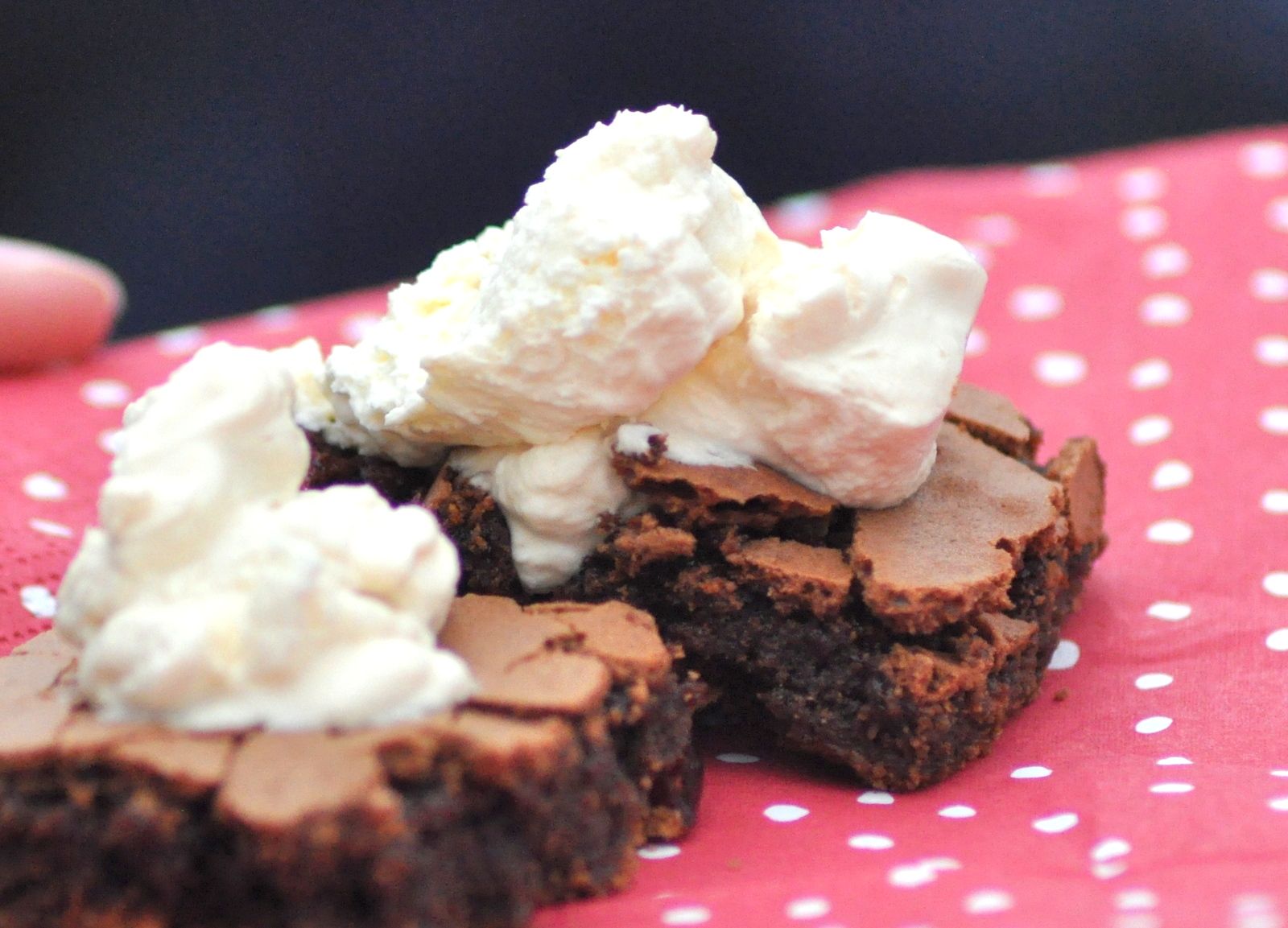 The light was dimming but the drama was not and the stage lights gave out a golden glow as the second half burst into action.
Before we were ready for it to end – we were having too much fun – it was all over and the Magnificent Three had become the Magnificent Six. My eldest daughter had enjoyed it so much that she said she wanted to see it all over again – and she has never said that before, for anything! One day I hope that we can get to thank the very talented performers and the rest of their team in person for their consistently entertaining shows. For now – thank you Miracle Theatre for being so magnificent….YEEHAW!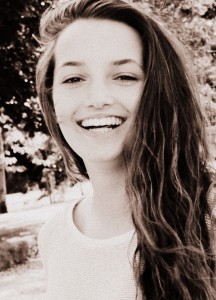 One happy girl!
Diane x
---