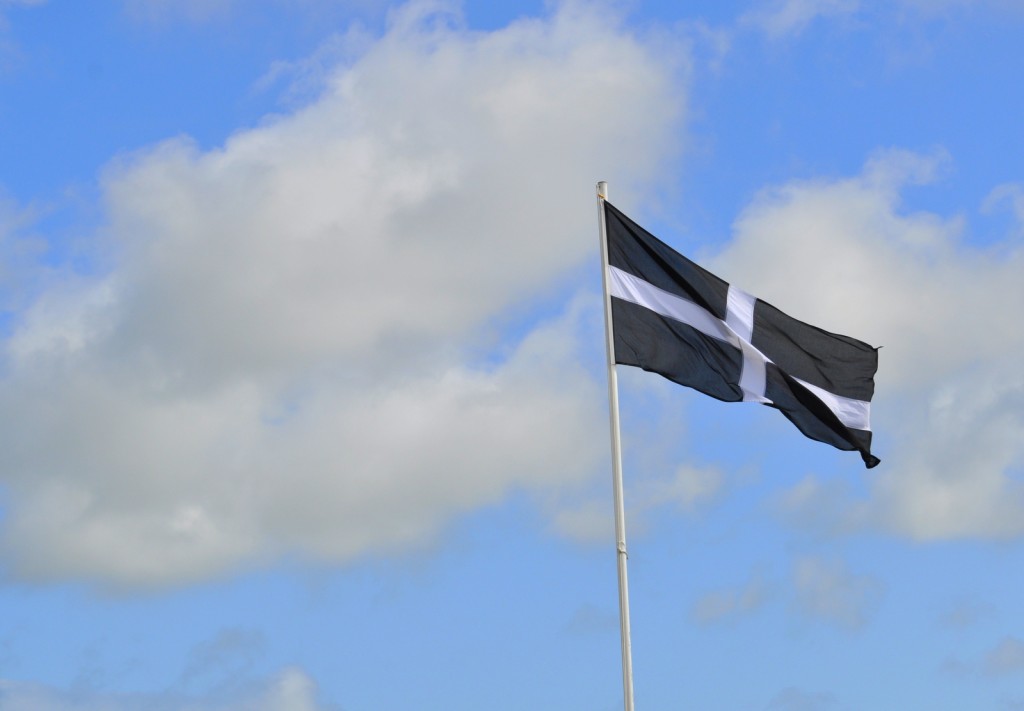 Every year it happens and some years I manage to make it there: The Royal Cornwall Show is Cornwall's biggest annual event. It was once a show for farmers, but the economy dictated that it become an agricultural show for the general public. It is organised by The Royal Cornwall Agricultural Association and has been held at the showground at Wadebridge, North Cornwall since 1960. The show has actually been going since 1793 and known as Royal since 1858. The wellies are still worn, more for fashion than practicality; and tractors still have a presence, but more so to entertain the little ones than farm the land. There is now something for everyone. The food hall has expanded; shopping marquees have sprung up; there are dog shows, rabbit and poultry competitions as well as those for large livestock; a flower show; and a fun fair with candy floss and cuddly toys. Despite the commercialisation the Show is still quintessentially an occasion for farmers and country folk. The tweed jackets, Barbour coats and Hunter wellington boots remain strongly the dress code. Very befitting of its association with royalty and regular visitor Prince Charles, who is a keen supporter of farming communities.  It is always held at the beginning of June, just when the weather should be bright and warm and the days longer. Unfortunately, it being England, the weather can be unpredictable and woolly jumpers, raincoats and wellies are sometimes the order of the day; not in 2015 though. The sun did shine and the rain stayed away, but there was a chilly north east wind to remind us that summer had not quite arrived. This was no deterrent. On the Saturday when we were there, so were most of Cornwall! The gates open at 7am, but only for the privileged few; otherwise the ticket office opens at 8.30. We arrived at 8.50 and, whilst the fields were already lined with vehicles, we did not have to queue. A very different story was told by midday when there was queuing everywhere, so the moral of this story is 'get there early'.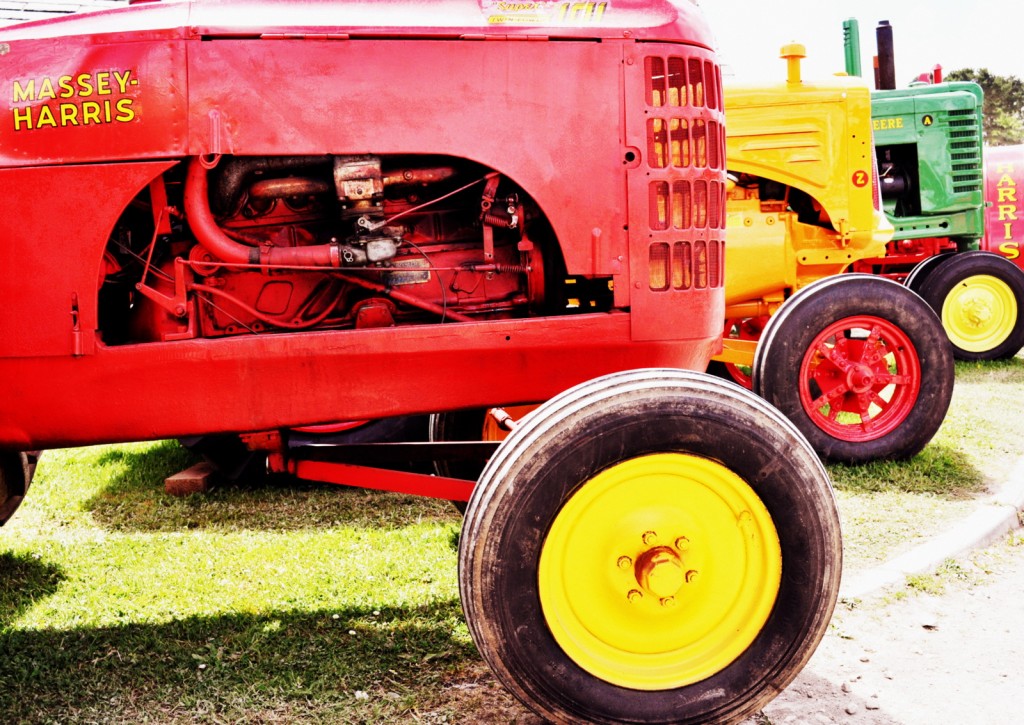 Old tractors and new must be the starting point of an agricultural show, especially for the men. Even for me though, I do feel a great deal of nostalgia in the colours and designs of the vintage vehicles. Modern versions may be faster, sleeker and more efficient, but I believe they do fit more readily in a sci-fi film than on the field.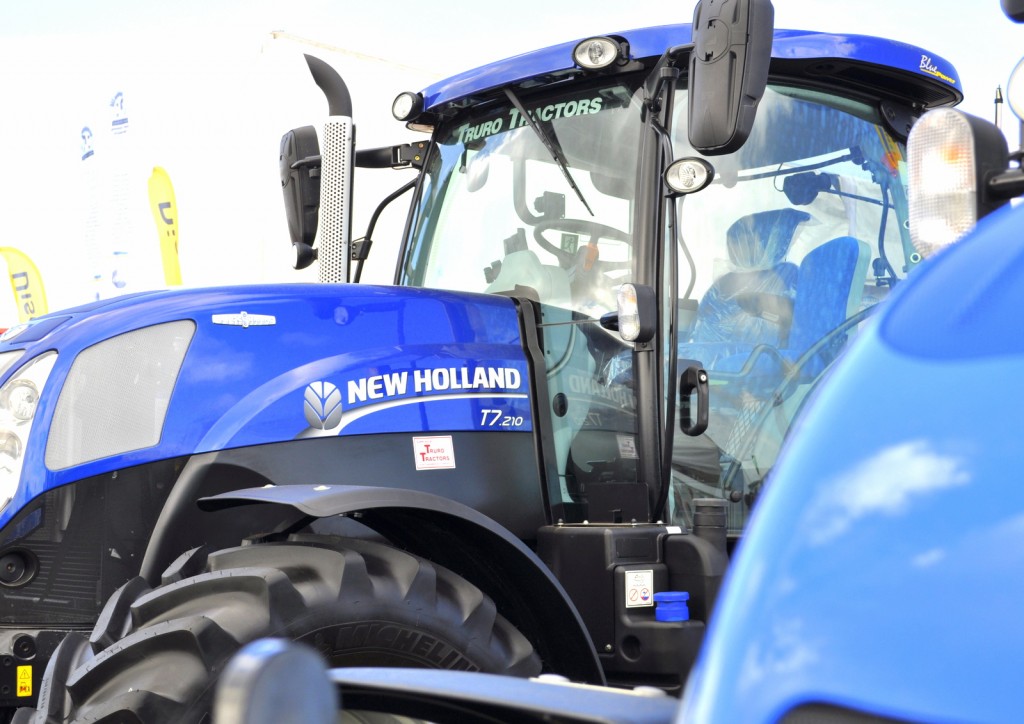 Before I move onto the Show that appeals most to me, we must not forget its origin as a show ground for animals, horse eventing and farming the land. I did want to share with you pictures of some of the sizeable cattle that were parading, but the popularity of this event precluded me from elbowing my way through the crowds and shoot a bit of beef; shooting with a camera and the beef being cattle! I did manage to get close to some chicks hatching in the dairy tent and catch a glimpse of some horse trial, I say 'some horse event' because, in my ignorance, I know very little about horses and such activities .
My personal favourite attraction is the food of Cornwall market hall; stall upon stall of predominantly locally grown produce and locally produced fare: pasties, cheeses, bread, cakes, chocolate, ciders, meats, fish, cream, asparagus and pates. My favourite cheese this year was the mature Cornish Gouda from the Cornish Gouda company; big rounds of gold piled high. Of course, I bought a chunk of the creamy, tasty cheese, which was consumed with homemade oat biscuits and pickle; melted over sliced avocado on a base of toasted muffin; and thinly sliced with fresh rocket leaves and vine tomatoes and sandwiched between freshly baked granary bread. I wish I had bought more. www.cornishgouda.co.uk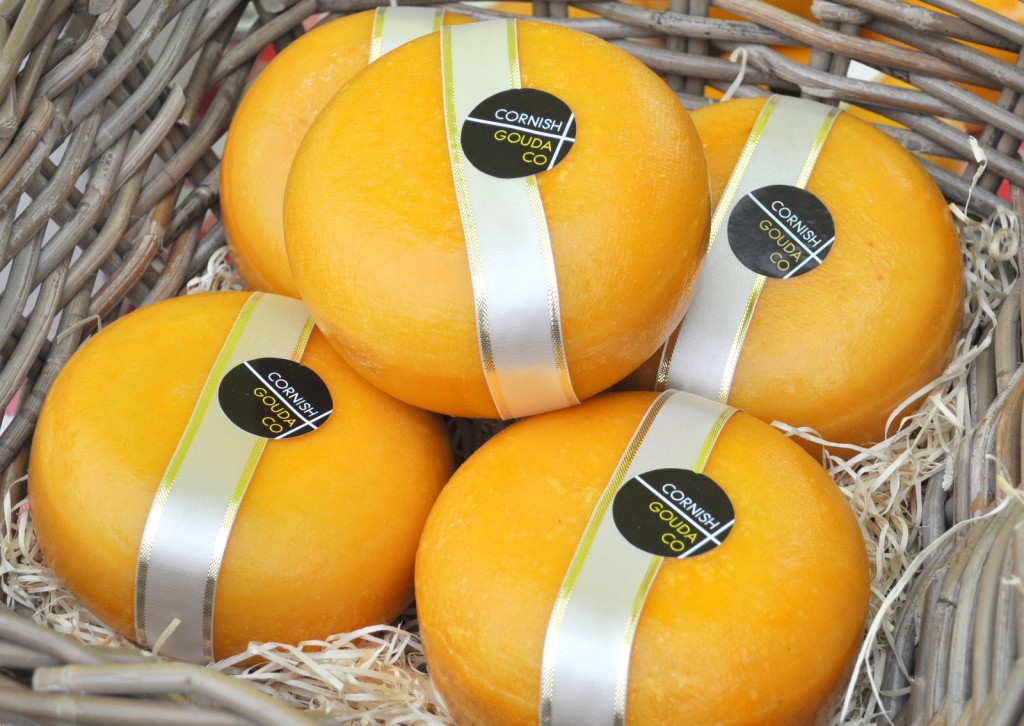 I would normally sample some of the local ciders, gin, creamy liqueurs and wines, but I decided it was wiser to keep a level head this time. But I did nibble at biscuits, brownies and cream, bread, cheese, pies and pate.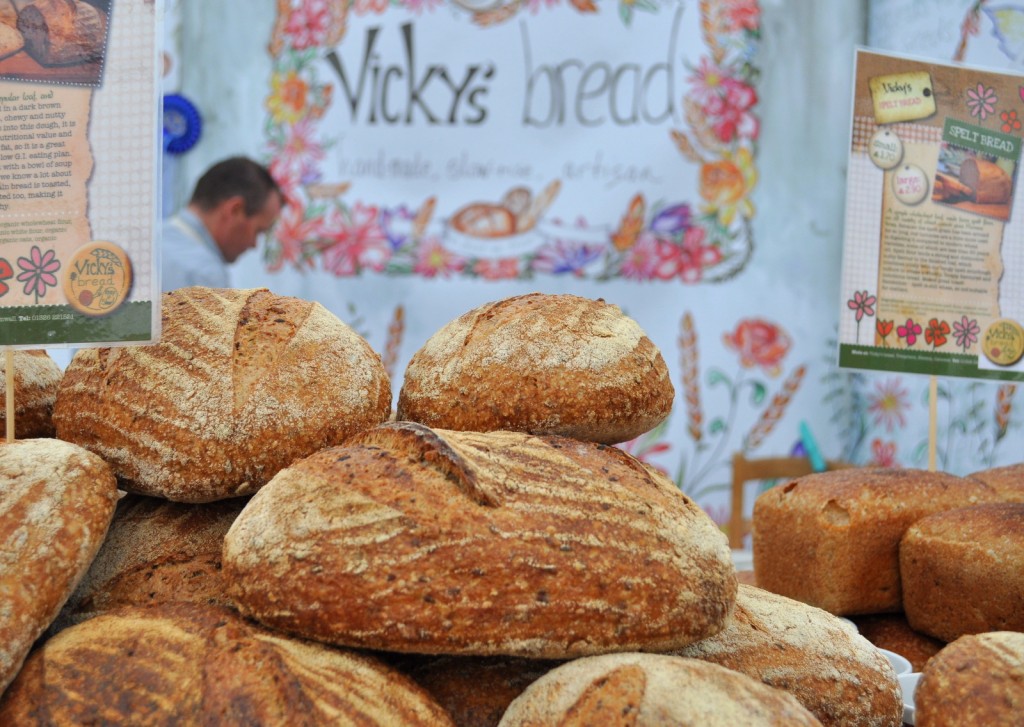 Bread you can really taste at Vicky's. Fine artisan bakes and all handmade in Helston, Cornwall. www.vickysbread.co.uk. I would strongly recommend that you take a look at Vicky's website; it is quite a charming story that is told.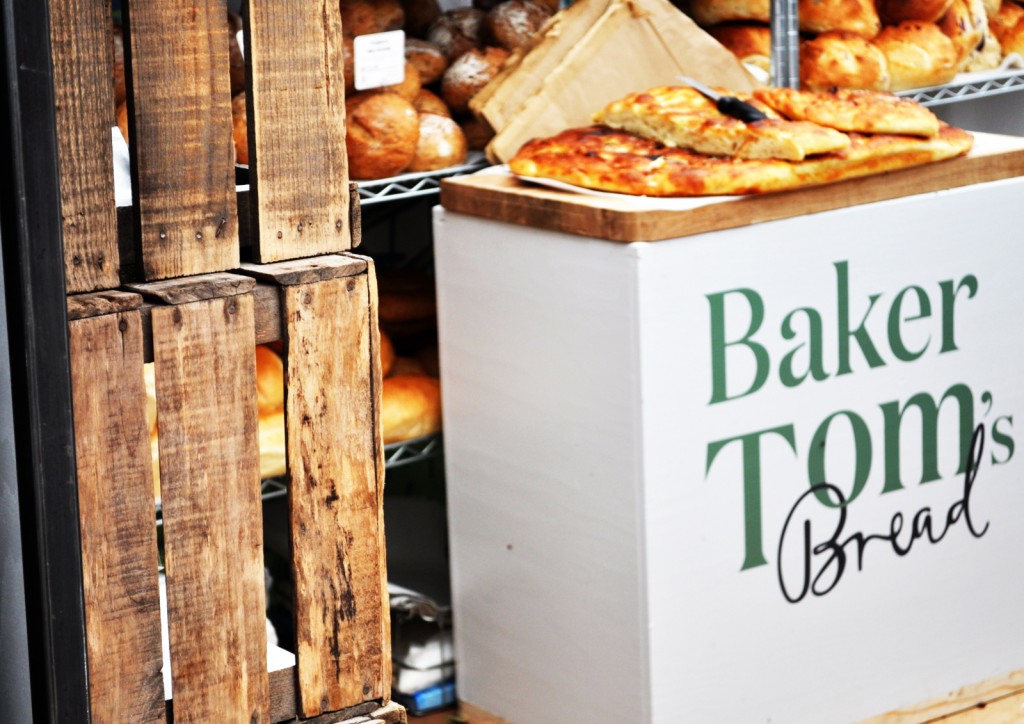 There was more than one artisan baker there and I can truly recommend, regular, Baker Tom. Not only does the bread excel, but so do the buns, baguettes, pastries, flapjacks and brownies. www.bakertom.co.uk
With all this talk of bread, I  can only think of cheese. There is something very special, but very simple, about freshly baked bread and a wedge of quality, creamy cheese. Just add a little homemade pickle and it is quality rustic food heaven.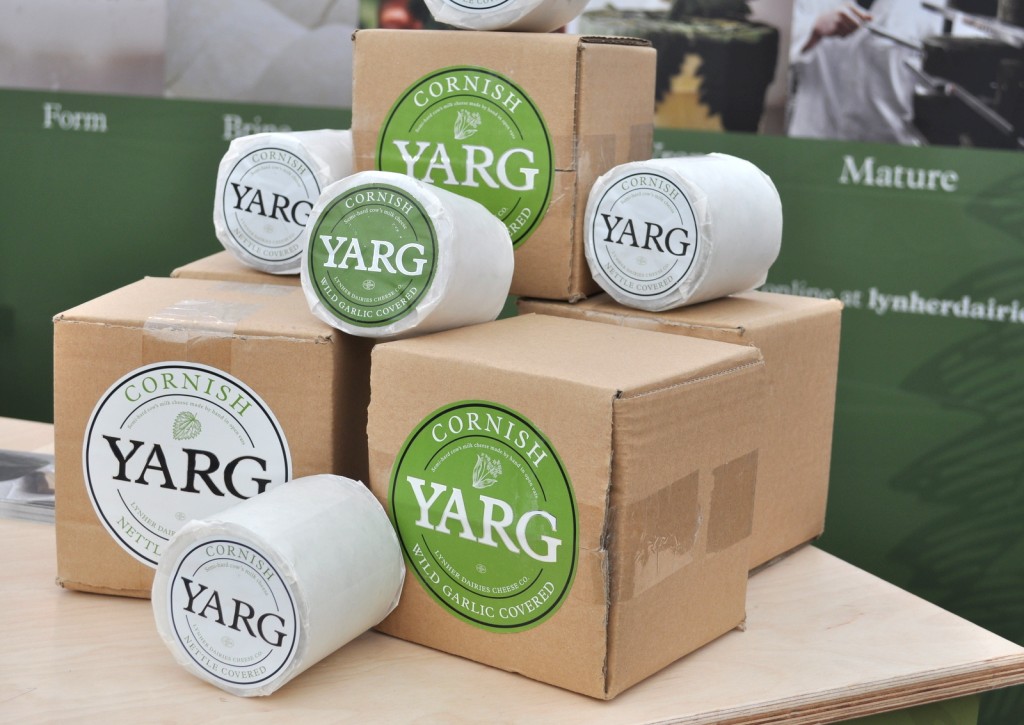 Cornish Yarg: a nettle wrapped cheese made from pasteurised cows' milk. It has a subtle lemony undertone and is quite creamy under the rind with a slightly crumbly centre. Very tasty and very satisfying. www.lynherdairies.co.uk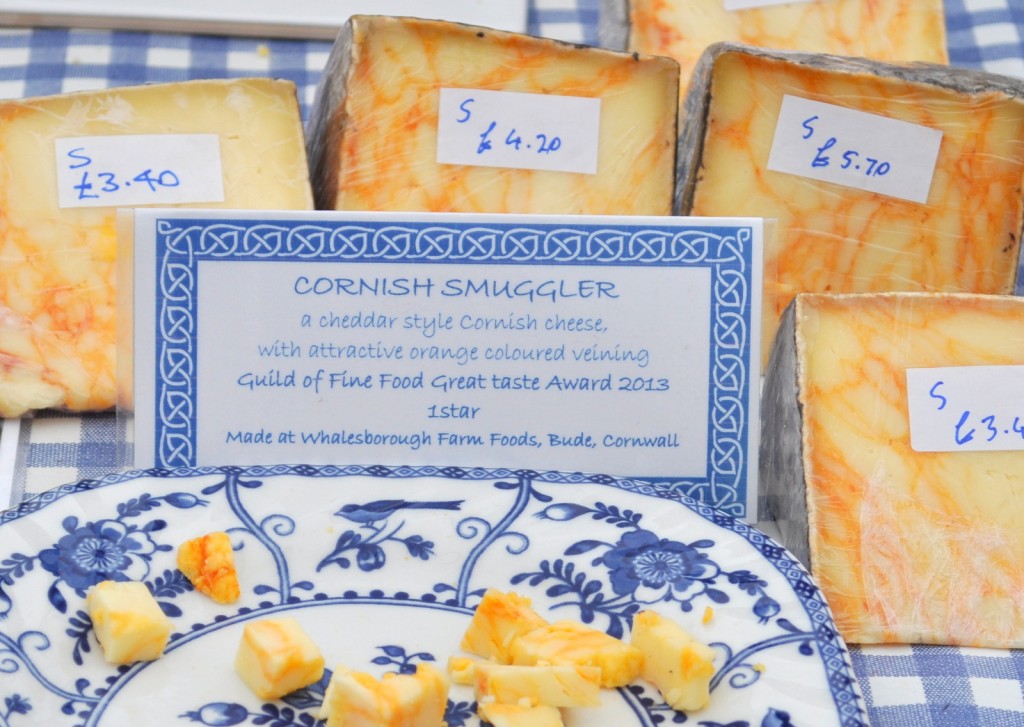 Cornish Smuggler cheese made by Whalesborough Farm Foods of Bude, North Cornwall. It tastes luxurious, just as you would expect from its opulent marbled appearance. www.whalesboroughcheese.co.uk
The Cornish Cheese Company not only produces creamy, delicately rich blue cheese, but deliciously fruity cheese pates too. I particularly loved the pate with figs. I heard another lady approve of the pear and walnut pate as she fumbled for her purse.  The company's story can be found at www.cornishcheese.co.uk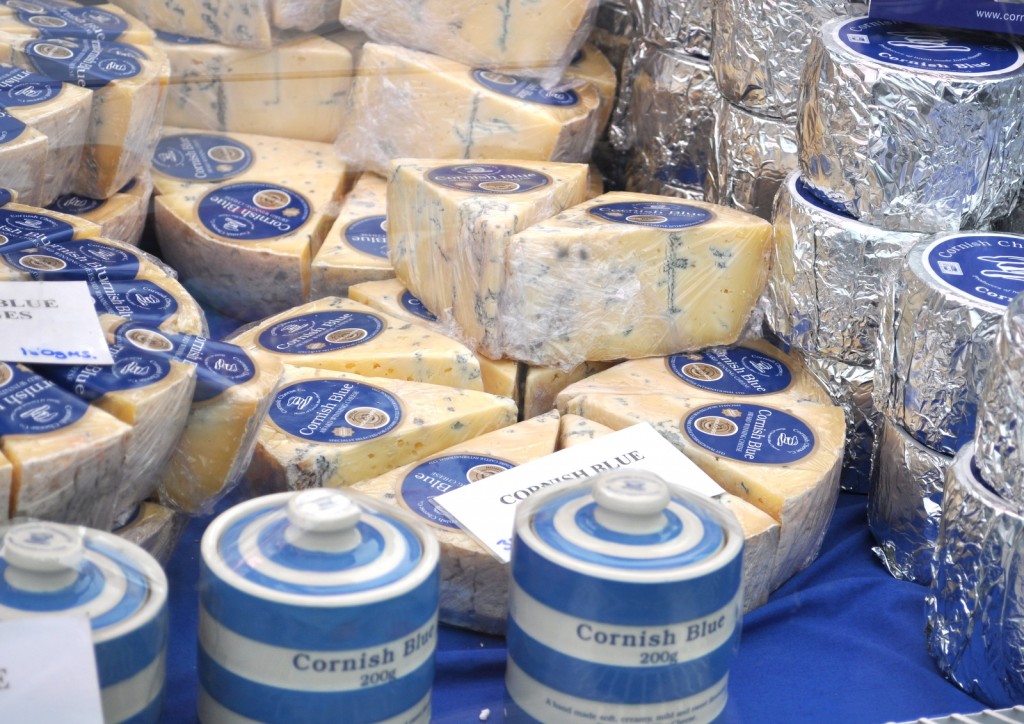 A cheese course followed by Cornish produced cream served with succulent strawberries. Unfortunately and tragically, I have an allergy to strawberries, so I just had to have scoops of cream with brownies instead, those brownies to be found at Baker Tom's, of course.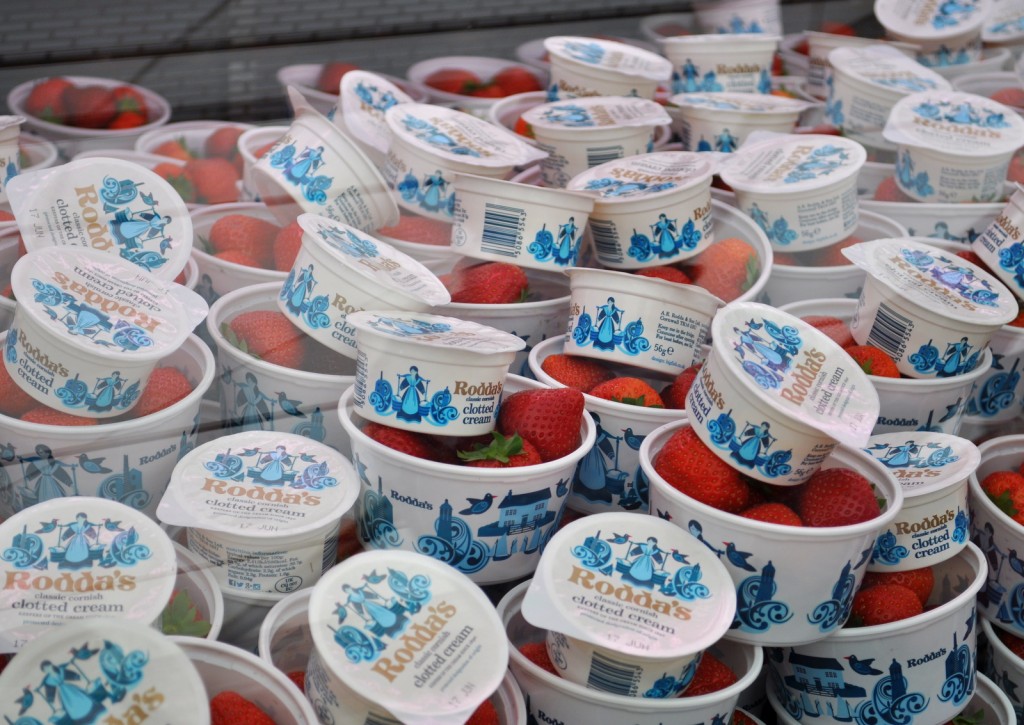 Rodda's is a well known family Cornish Dairy, www.roddas.co.uk  Just as Trewithen is too, www.trewithendairy.co.uk. Both were offering the typically English summer dessert of strawberries and clotted cream, served sometimes with freshly baked scones. Not best for the waistline, but absolutely delightful for the sanity.
And now, I offer you a gallery of all the other delights to be found in the food hall.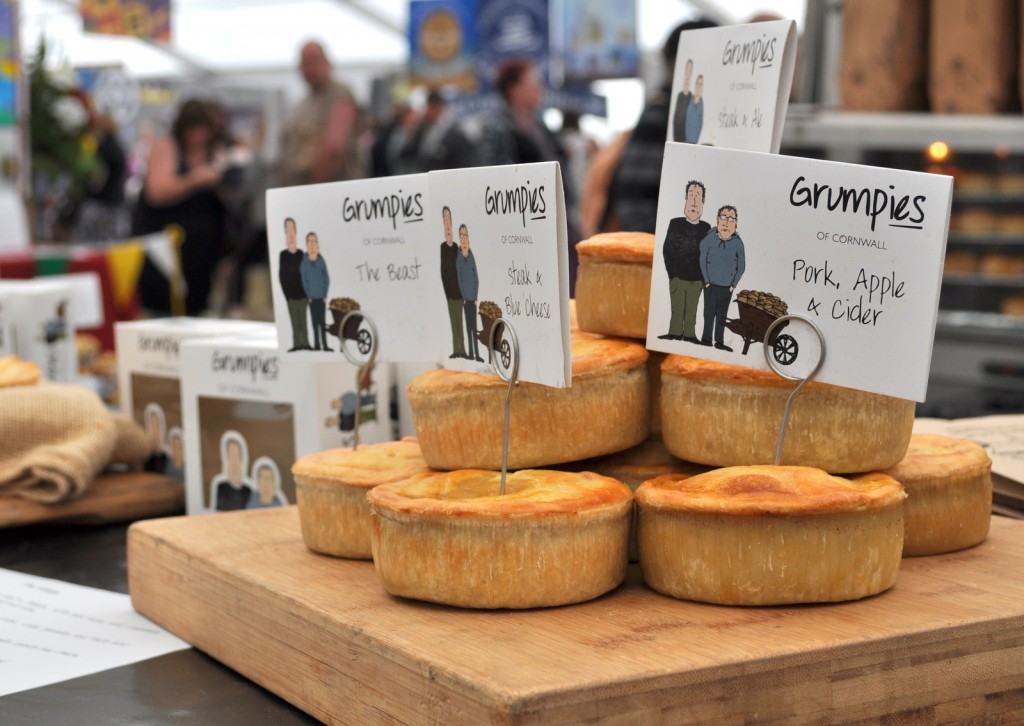 Grumpies of Cornwall golden pies and pastries. See the whole range at: www.grumpiesofcornwall.co.uk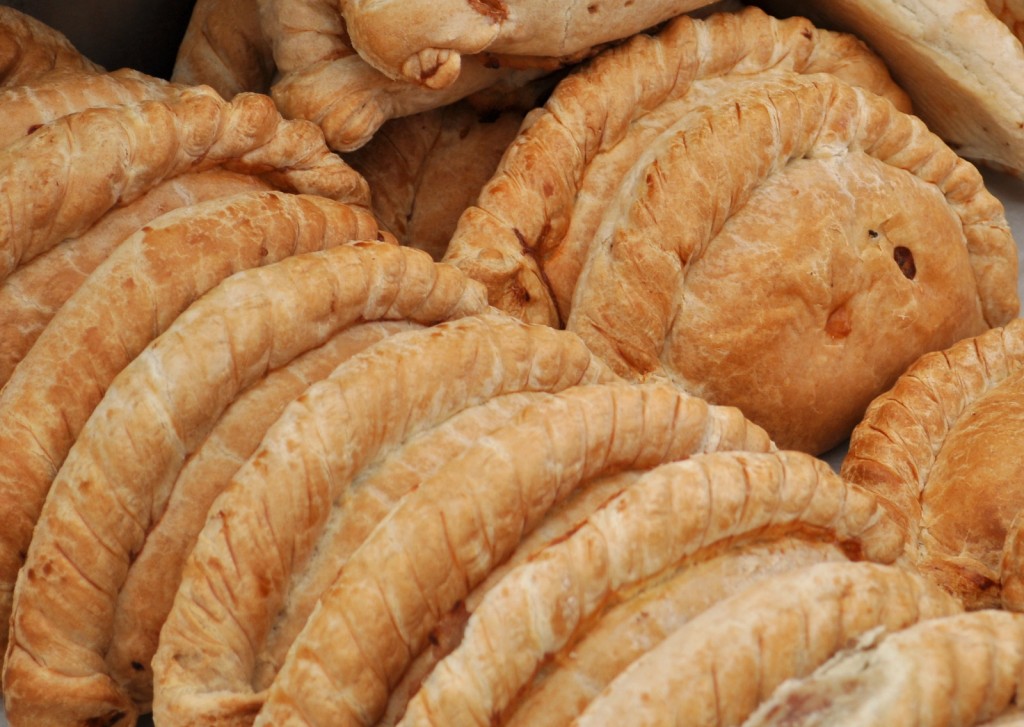 The Cornish pasty by Grumpies. There were other Cornish pasty makers at the show, but Grumpies caught my eye. I now wish that I had bought one to try, but they did and do look scrumptious.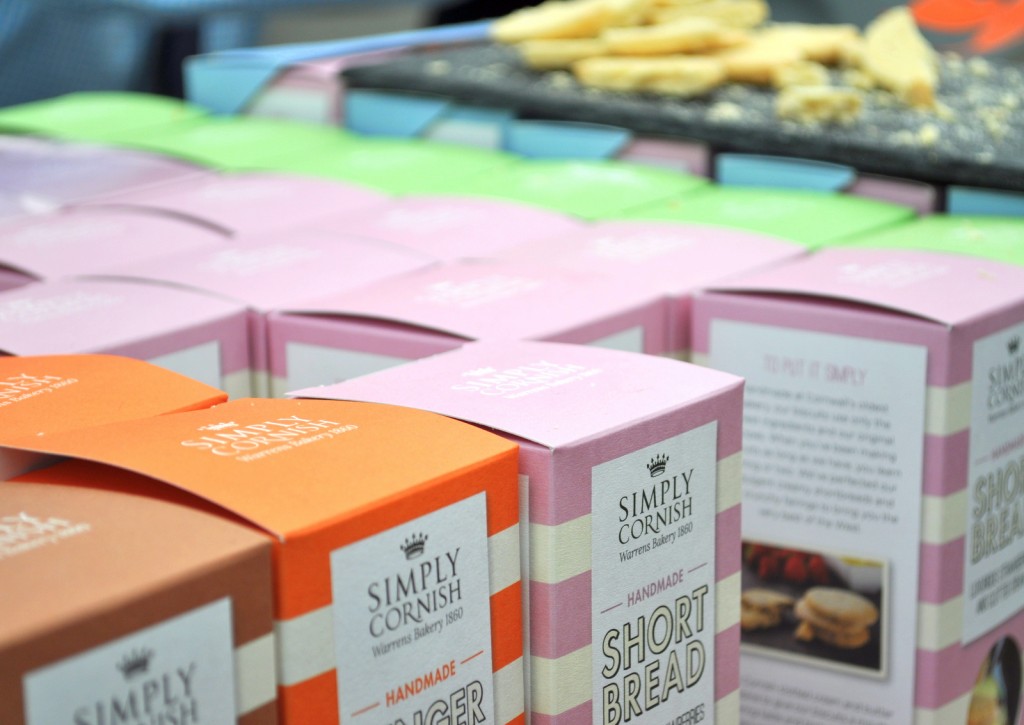 Biscuits and pastries by Simply Cornish at: www.simplycornish.com. I bought a box of the strawberries and cream and apple crumble shortbread biscuits as gifts and a treat for the grandmas back home.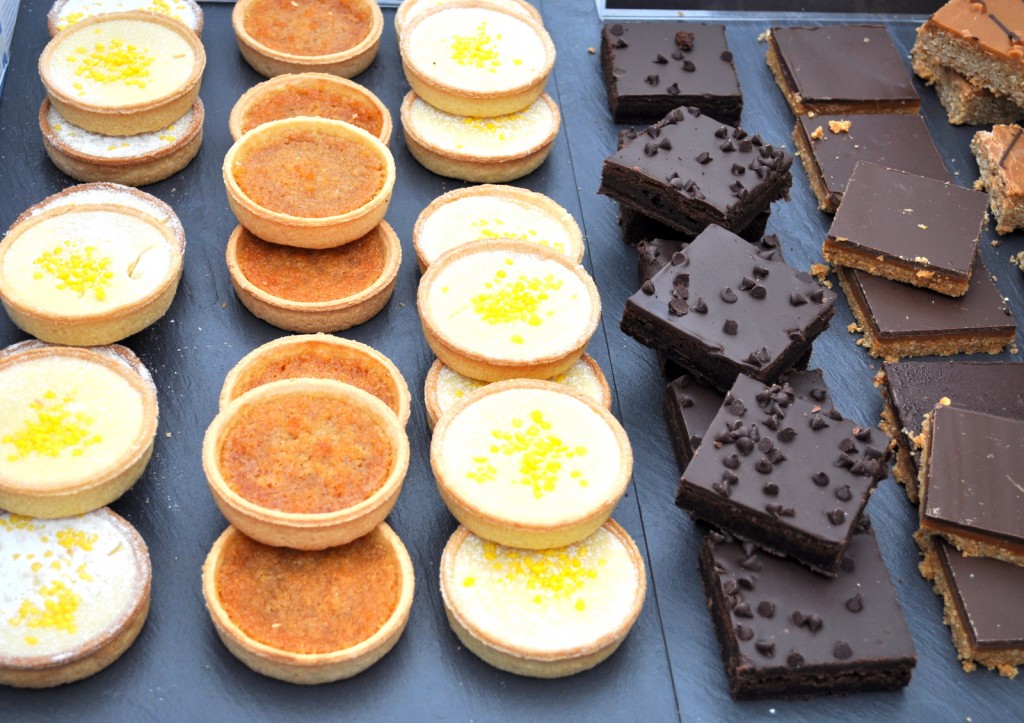 And something to drink; something refreshingly non-alcoholic and something refreshingly naughty!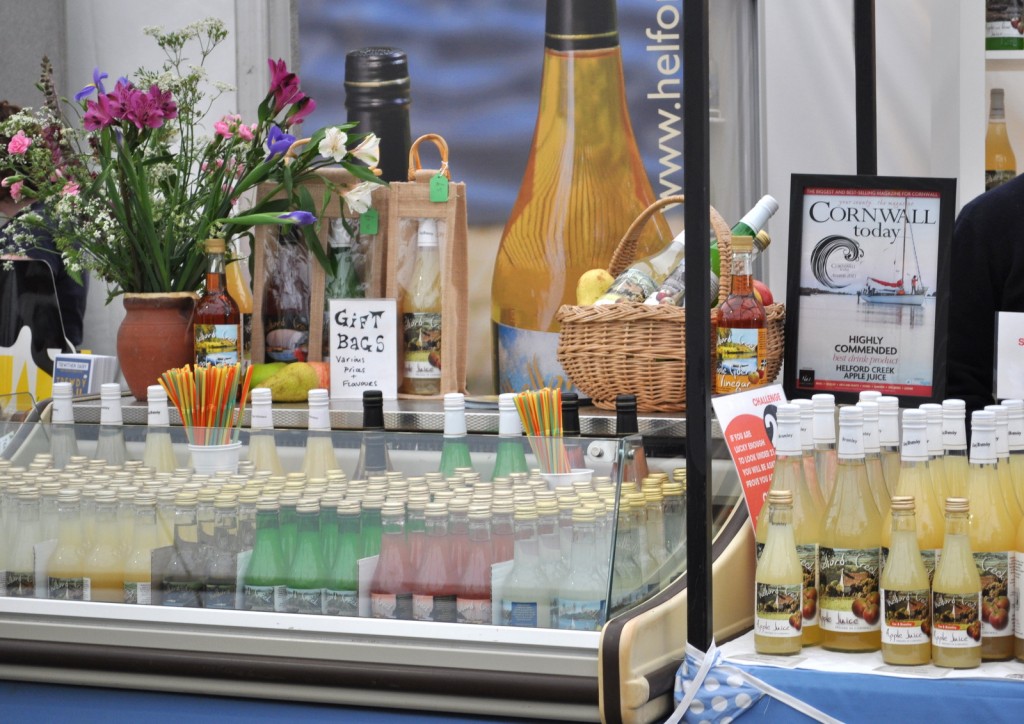 Fruit juices from Helford Creek apple juice and cider maker, www.helfordcreek.co.uk.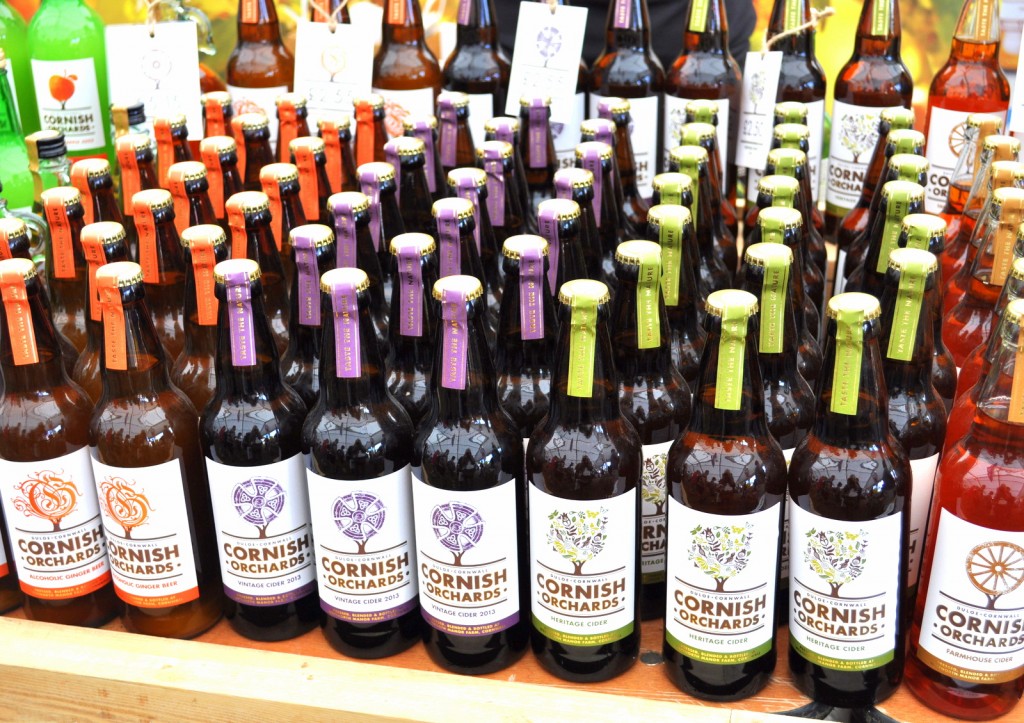 Flavoursome apple juices and ciders by Cornish Orchards, www.cornishorchards.co.uk. The drinks are made from the fruit of small and old Cornish orchards, hence the name.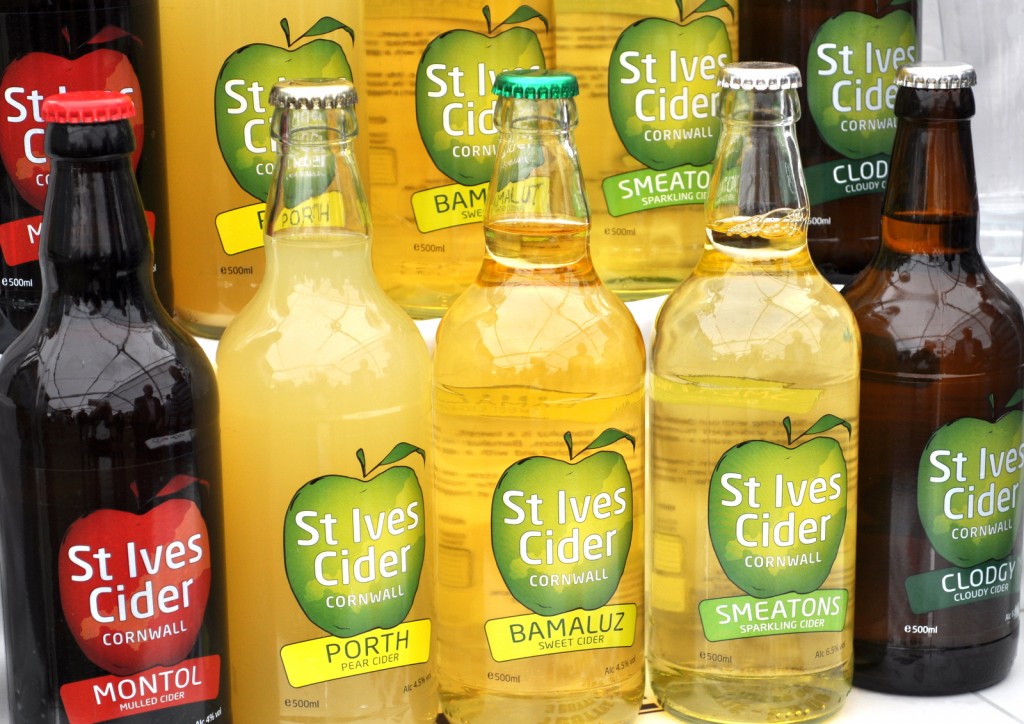 Speciality ciders in St Ives, www.stivescider.co.uk. Expert wine making is combined with cider making techniques.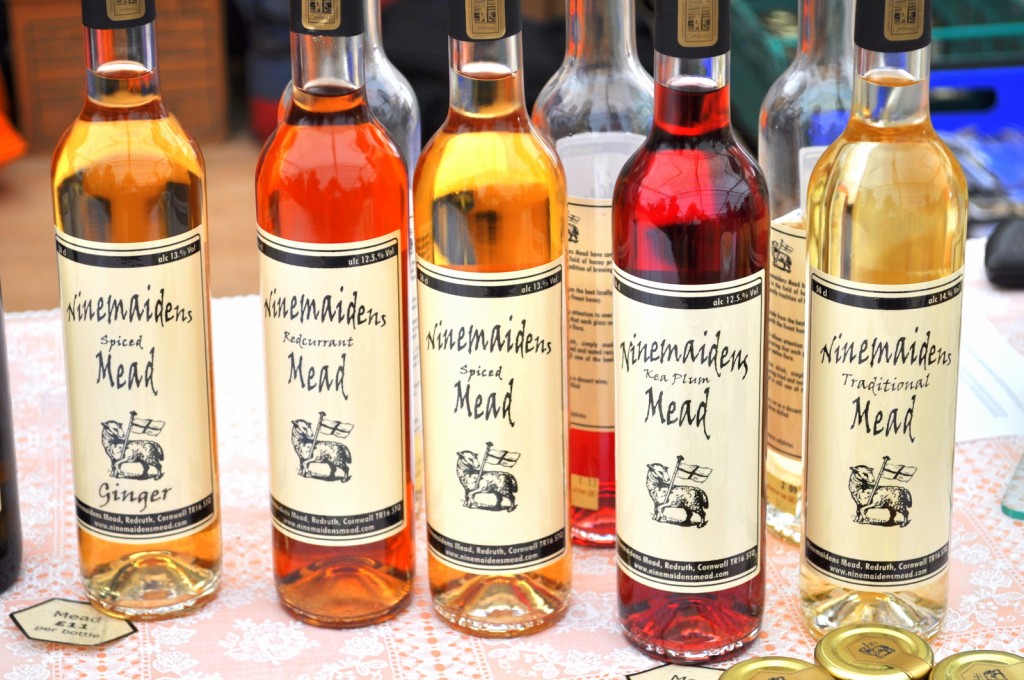 Ninemaidens Mead of Cornwall ferments honey and flavours it to make its range of exclusive meads. Mead should be drunk like sherry or dessert wine, as an aperitif, in small glasses at room temperature or chilled.  All these drinks are produced in Cornwall using Cornish produce where possible. www.ninemaidensmead.com.
As you would expect from an agricultural show there was plenty of fresh, local produce too. Perfectly formed strawberries and wholesome, crisp looking vegetables. The strawberries from Boddington's Berries at: www.boddingtonsberries.co.uk. And the asparagus from Tregassow Manor Farm at St Erme, near Truro, Cornwall. Riviera Produce is well known for its cauliflowers and spring greens.  www.rivieraproduce.eu. The apples featured here were not for consuming; they were decoration on an old 19th Century apple crusher at Ben Jones reclaimed architectural granite stand, www.extremegranite.co.uk. Old granite has become increasingly popular over the years as garden ornaments; a less practical purpose than intended for the original designs, but at least they live on beyond their original use..
Colourful flower and plant displays were in abundance in the flower tent. Awards are presented to the best displays and nurseries, and fun competitions take place such as design a shoe with nature. I would be very happy to wear the design seen here, if only there were two!
Orange flowers were a popular theme this year. As I have said in an earlier message, I do love the vibrancy of orange and it appears that others do too. I guess it shouts summer sun and sand.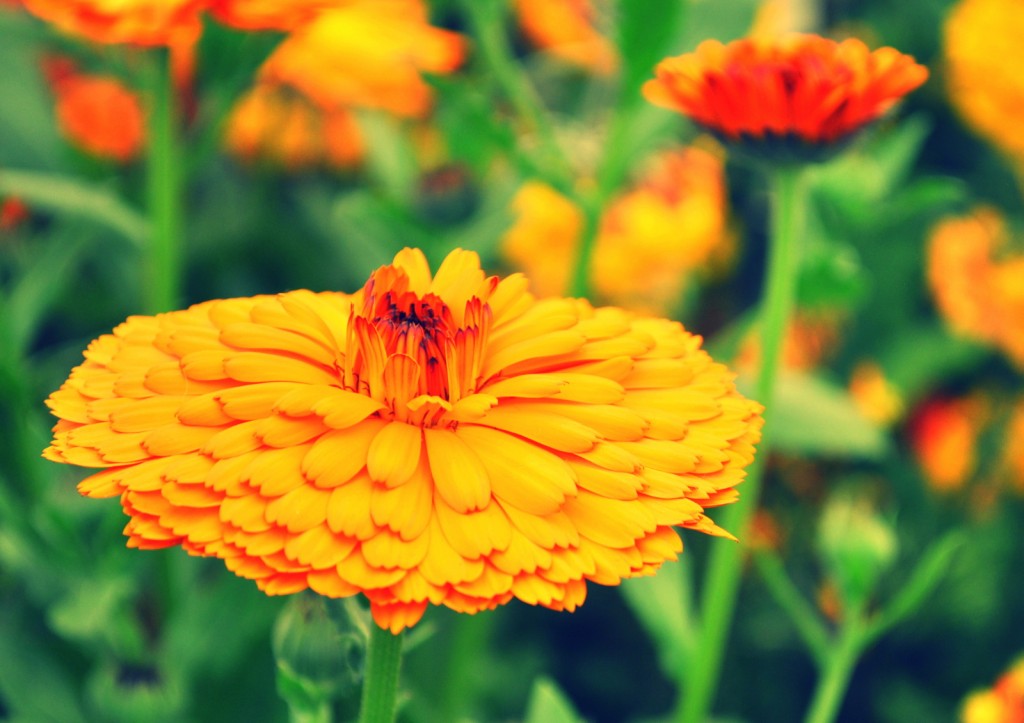 The Royal Cornwall Show is a fun day out for everyone and one could easily spend the full three days there, to do it justice. There is just too much to see and do in one day, especially if you want to take advantage of all the varying places to dine, snack and drink. Coffee Bean bars abound, along with beer, wine and cider tents. Food from chips to veggie burgers to fine lobster can be consumed. All these things take time and as much time as you can get is what is needed when you visit the Royal Cornwall Show. The dates for next year, 2016, are: 9, 10 and 11th June. Pop these in the diary now!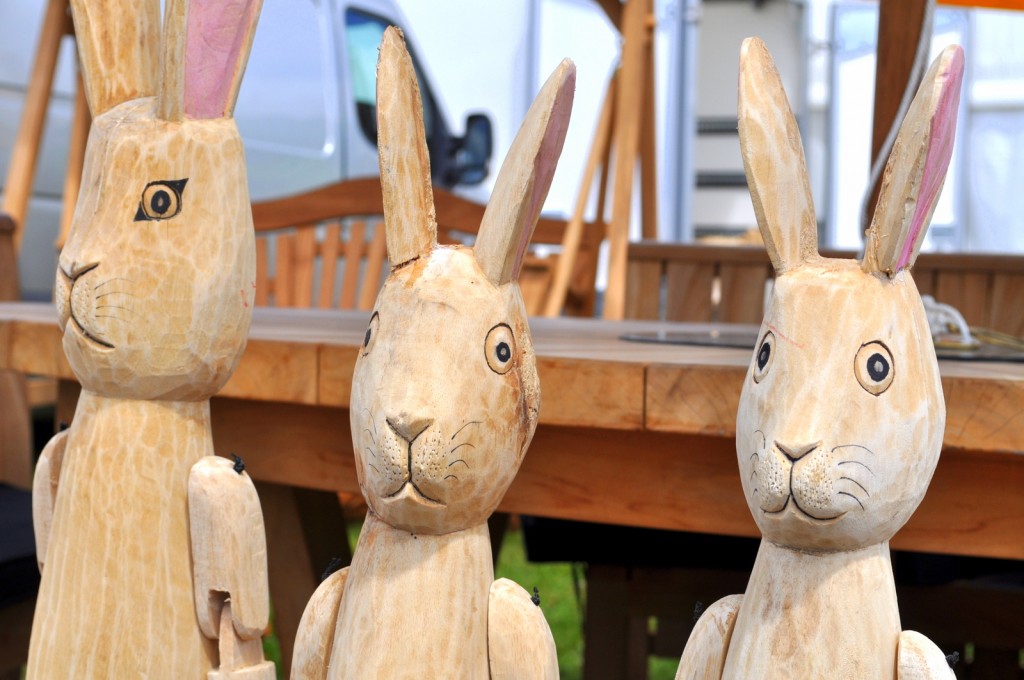 Before I go, I just need to share these wonderful wooden rabbits with you. They were found perched on outdoor wooden seating by outdoor furniture makers Fry's Teak Garden Designs. The company also offers exquisite teak root, life size horse sculptures: www.frysteakgarden.co.uk. Whilst the horse sculptures are amazing craftsmanship the wooden rabbits made me smile; and that is what The Royal Cornwall Show should be about: bringing a smile to everyone's face. Maybe next year I'll make it to the fairground. This year I had no more time for play, instead I raced home with some of my newly purchased produce with which to make a cake: Strawberry, Lime and Cream Sponge. I was off to a friend's birthday barbecue that evening and what could be more apt than a birthday surprise full of fresh, Cornish fare. Happy birthday to Sally.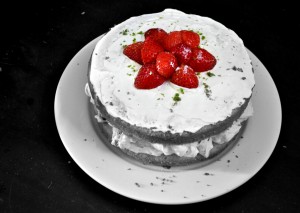 Diane x
---