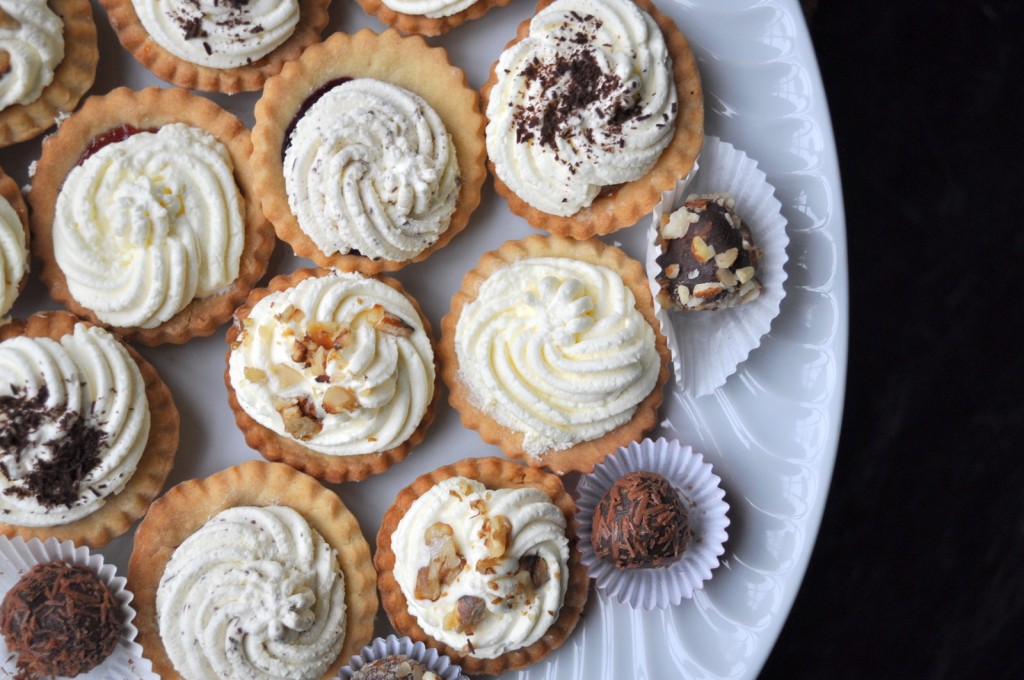 Just as we returned from our lovely trip away, to another lovely part of the country, our equally lovely neighbours invited us for a Chinese dinner. "Do not bring pudding," was the order, "we cannot eat pudding after Chinese". You see, I always make pudding. I am sorry to say: it is so hard for me not to make something sweet when we are invited to dine with friends and this was no exception. So, rather than a full on indulgent dessert, I decided to create some bite-size cream tarts with a variety of simple fillings from store cupboard finds; I had no time to visit the markets. I could not find my plain tart cutters, a plain edge I do prefer, so these tarts are fluted. And because they are creamy patisseries I decided to give them a French title – mini-tartes a la crème. I  apologise if my translation is a little clumsy as my French has never been a strength of mine. I had a few homemade chocolate truffles left over from a recent present making session and added those to the platter as edible decoration. There were: chocolate and walnut tarts, banoffee tarts, blackcurrant and Cointreau tarts, and strawberries and cream tarts; something for everyone, I anticipated. Coincidentally, our wonderfully sweet neighbours had prepared a big bowl of mixed fruit that complemented the tarts perfectly.
To make the pastry cases (24 tarts):
340g (12oz) plain flour
180g (6oz) butter
125g (4oz) icing sugar
1 large egg
a 8cm (3″) round pastry cutter, preferably smooth edged
2 x 24 hole tart tins, lightly buttered/oiled
For the fillings and cream:
600ml (20floz) double cream
50g (2oz) dark chocolate, 4tbsp double cream, 2tsp icing sugar, 50g (2oz) chopped walnuts for the chocolate filling
4tbsp caramel condensed milk (dulce de leche), 6 slices of banana, 1tbsp dark chocolate shavings for the banoffee tarts
4tbsp strawberry conserve, 3 strawberries (halved) for the strawberries and cream tarts
4tbsp blackcurrant conserve, 2tbsp Cointreau, 2tbsp dark chocolate shavings for the blackcurrant tarts
Preheat the oven to 200°C (180°C fan oven) mark 6
Put the first three pastry ingredients into a food processor and blitz until resembling bread crumbs. Add the whole egg and blend to make a dough. On a floured board lightly knead the dough together and with a rolling pin roll out the pastry to approximately 3mm. With the cutter make 24 rounds. Place a pastry round into one of the tart tin holes and smooth down to shape. Repeat until all the holes have been lined with the pastry rounds. Bake in the preheated oven for approximately 15 minutes until the pastry is golden. Cool in the tins.
Whilst the pastry cases are cooling prepare the fillings. Whip the cream and place a quarter of it into a separate bowl.
For the chocolate filling: melt the dark chocolate and cream over a bowl of gently simmering water and when melted beat in the icing sugar until fully blended into a thick sauce. Stir in most of the chopped walnuts, keeping a little back to decorate. Share the chocolate mixture between 6 of the pastry cases. With an icing bag pipe a large swirl of cream over the top and sprinkle with the reserved walnuts.
For the banoffee tarts: share the caramel sauce between 6 of the pastry cases. Top each with a slice of banana and pipe a large swirl of cream over the top and dust with chocolate shavings.
For the strawberry tarts: share the strawberry jam between 6 of the pastry cases. Pipe a large swirl of the whipped cream over the top of the conserve and top each with a half of strawberry.
For the blackcurrant tarts: split the blackcurrant conserve amongst the last remaining 6 cases. Mix the Cointreau into the quarter of whipped cream put to one side and stir in the chocolate shavings. Pipe into large swirls over the top of each tart. If you happen to have some fresh blackcurrants to hand then top each tart with a blackcurrant or two to decorate.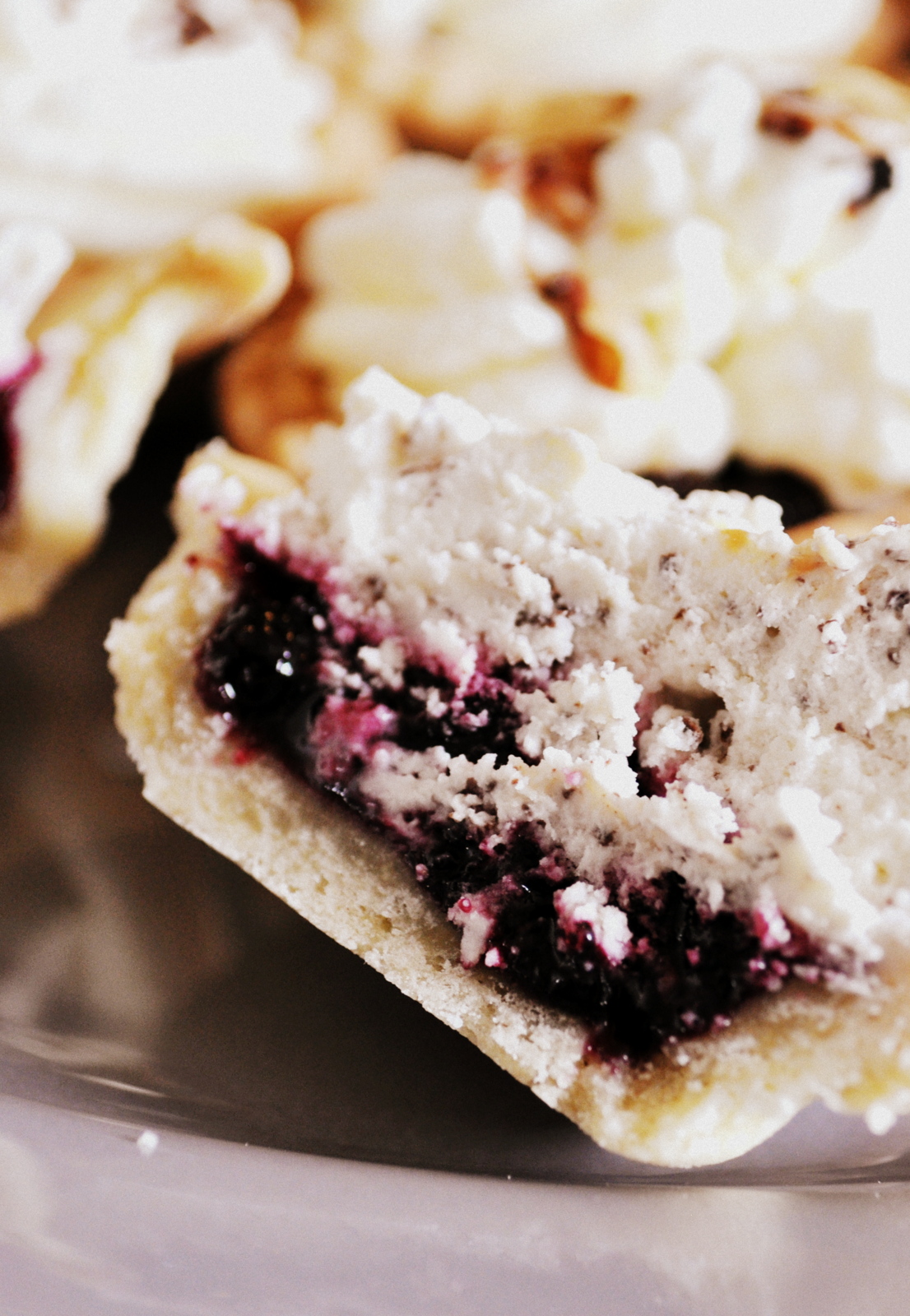 Place all the tarts onto a large serving platter and allow everyone to tuck into their favourites. These can be eaten at anytime; equally great with a glass of champagne or a steaming hot coffee, and for the children, homemade lemonade.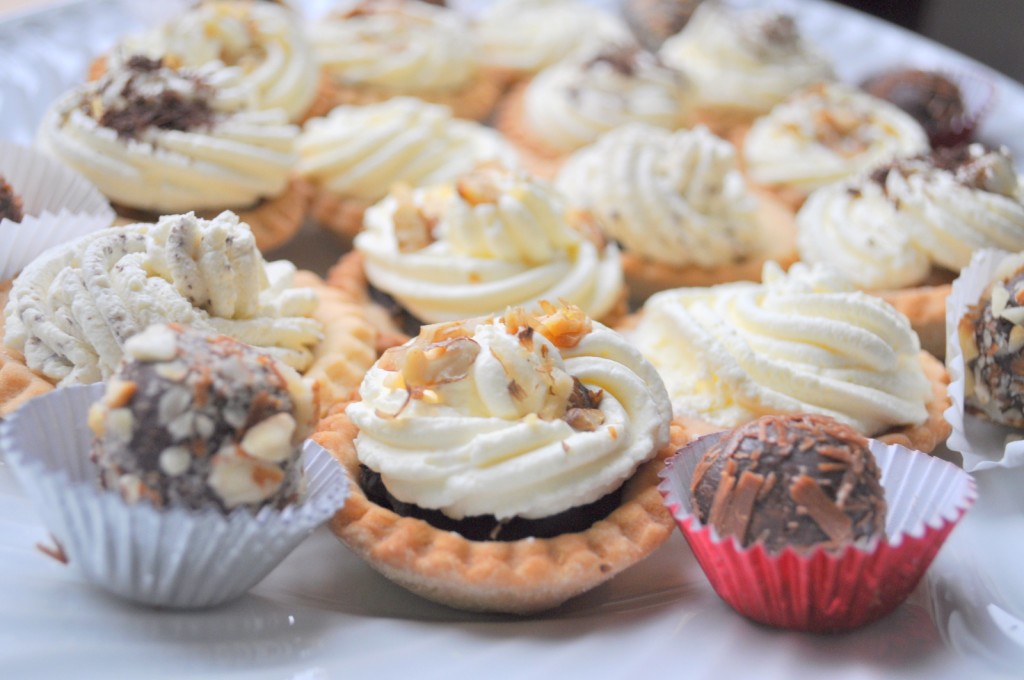 Diane x
---