From time to time we all need a break from normality; even if that normality is not so bad. Last week we took a few days away with the children and headed to a good friend's house in the beautiful English county of Berkshire. My dear friend and her partner were off to the sunshine of Italy and offered their home to us. With another dear friend living just across the border in Oxfordshire, it was an opportunity we could not miss. My eldest was a little traumatised by the idea, being slap bang in the middle of her GCSEs, but we managed to convince her that: one, she could still study whilst away and secondly, a break here and there would do her studying some good. She conceded and off we went.
My friend, the one sunning herself in Italy, lives just a few miles from the stereo-typical English village of Goring. It straddles the river Thames with quaint wisteria covered cottages, white-washed houses and grander brick, flint and stone mansions. I may be corrected by those in the know here, because Goring does not really straddle the river, its adjoining village of Streatley does one side, but, as they appear to merge into one another close to the river, I believe them to be one of the same. They share a railway station and the same cluster of shops, pubs and restaurants in support of my argument. But, Streatley is in Berkshire, as my one friend's house is, and Goring is in Oxfordshire, where my other friend's house is; so, I'll let you make the final decision on whether or not they are one of the same? Whatever the conclusion, I think everyone will agree that Goring and its neighbour occupy a desirable part of the English countryside. So, there we were, having travelled from one delightful part of the country, that is the south west, to another, to enjoy a break from our normality. I say that, but as anyone with children know, wherever you are with the kids they somehow manage to keep things normal!
I won't bore you with pictures of the dear ones, not yet anyway, but I will share with you some of the wonderful sights that we enjoyed on the Berkshire and Oxfordshire border. We walked and, sometimes, talked along the river in both directions and met with many a fluffy gosling, duckling and signet. Colourful narrow boats, glossy speed boats, shiny motor cruisers and grand gin palaces chugged by, passing the bubbling weir and steering a way through the village lock.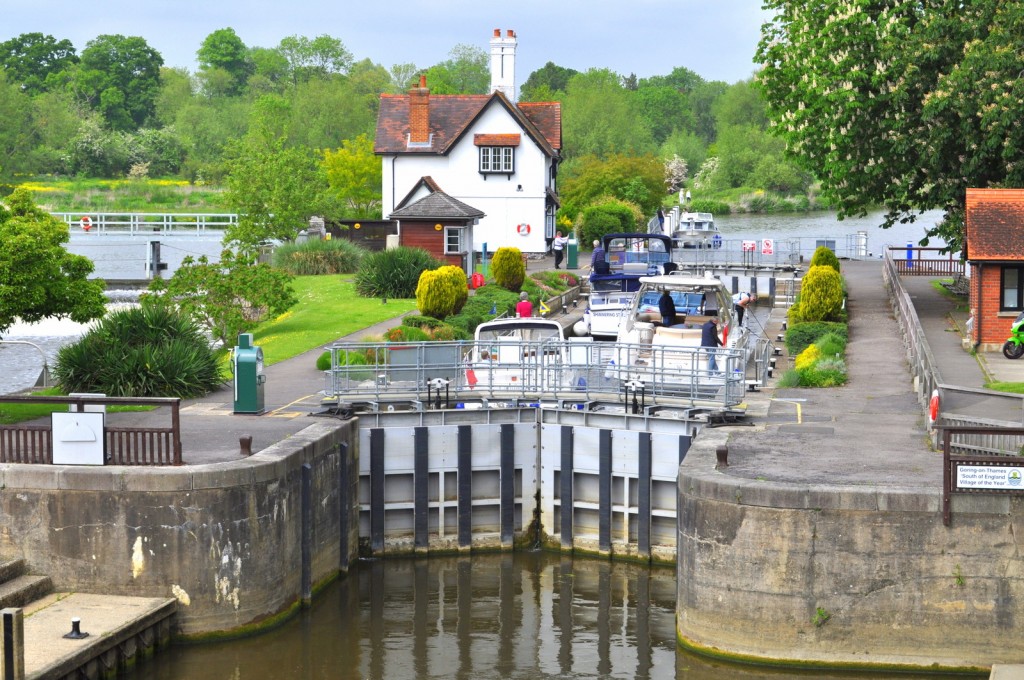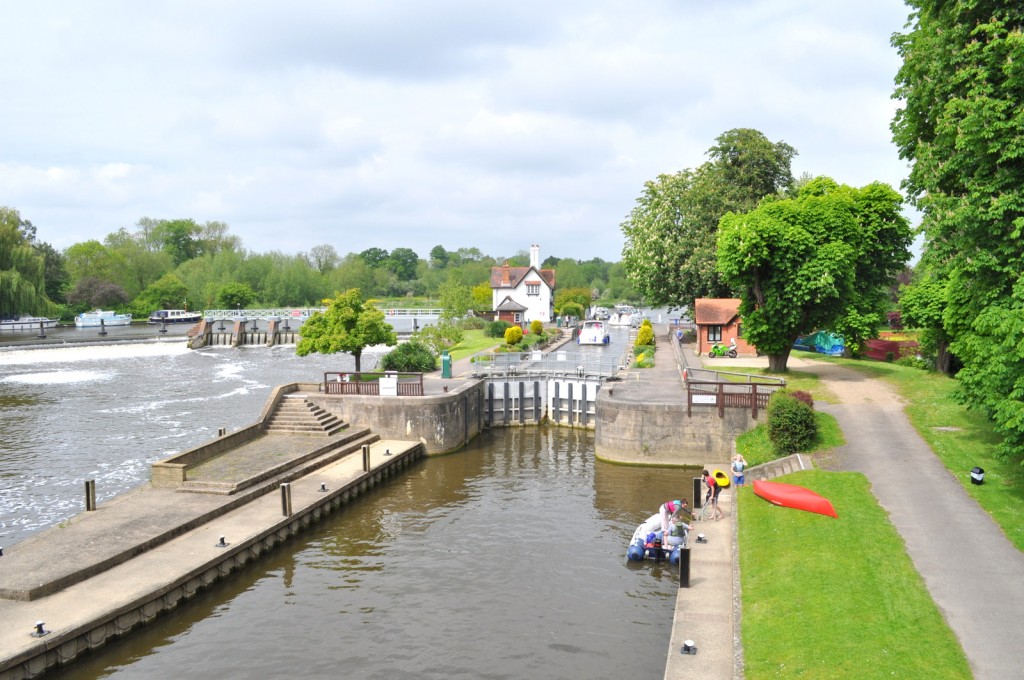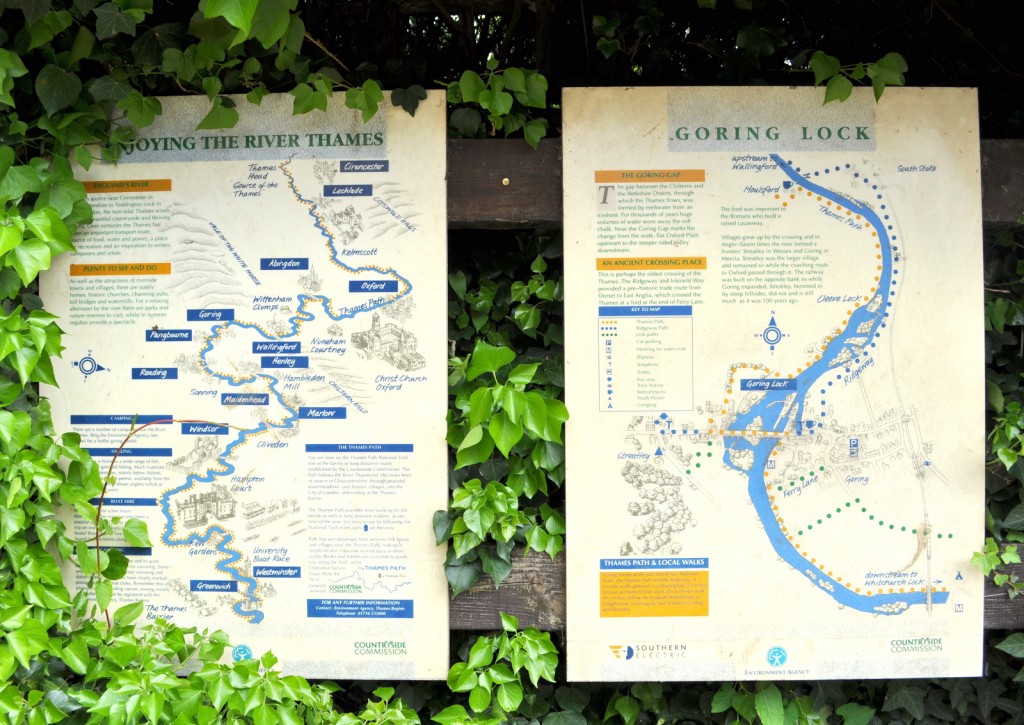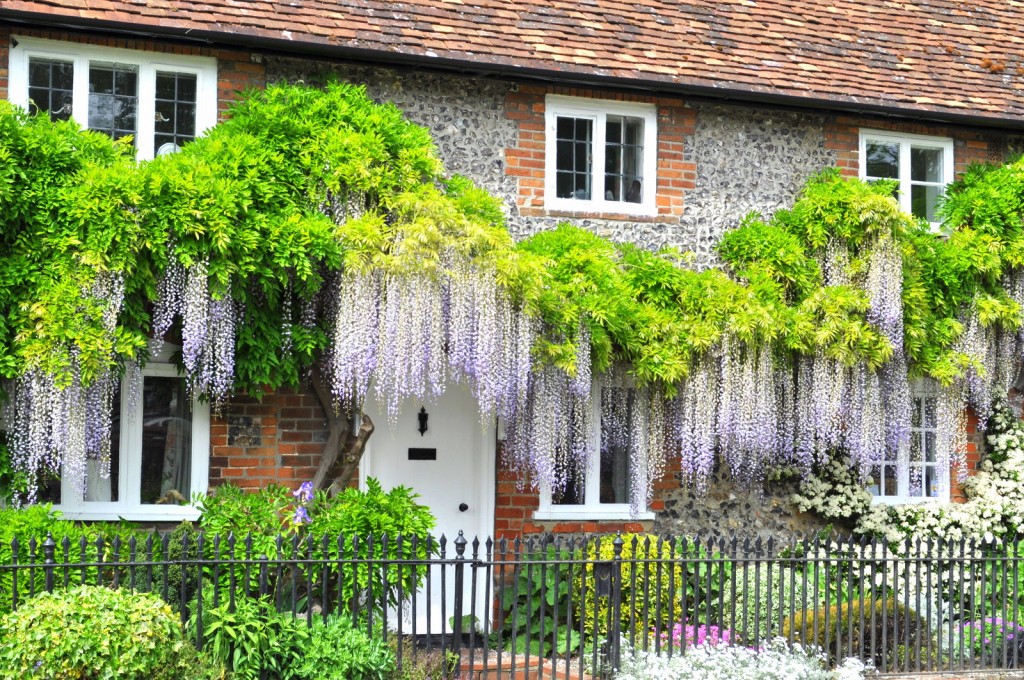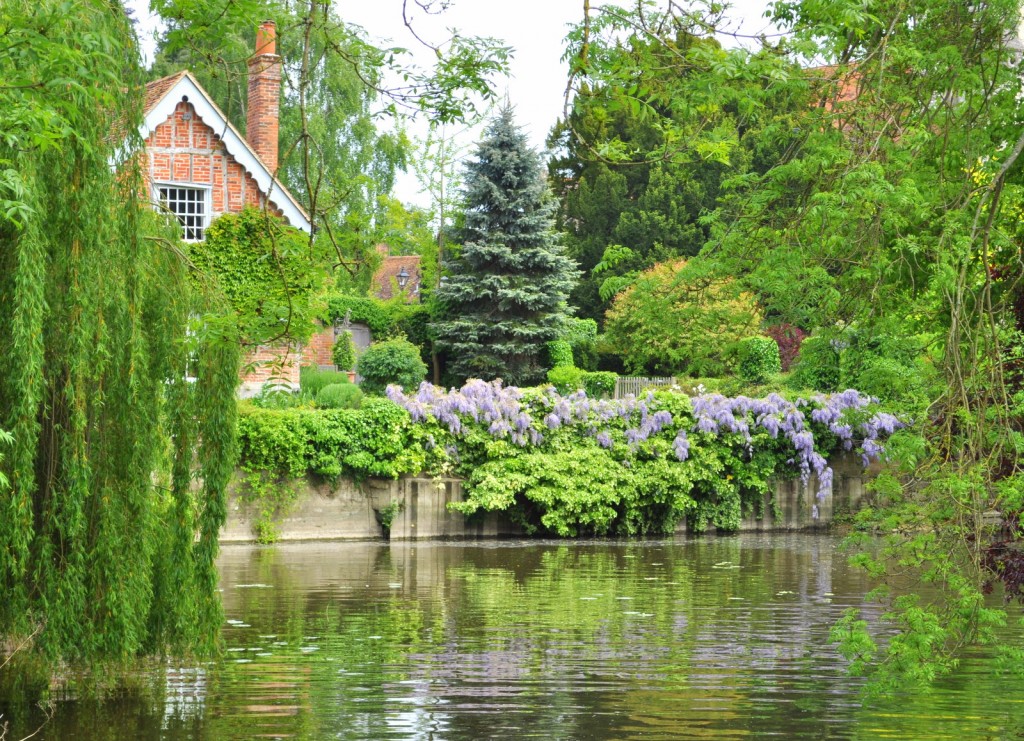 I could imagine the French impressionist painter, Claude Monet, sitting here, next to the river, with his easel and large palette of colourful oils. He would be painting one of his famously styled water lily interpretations; like the many he created during his prolific water lily period of 1909-1926.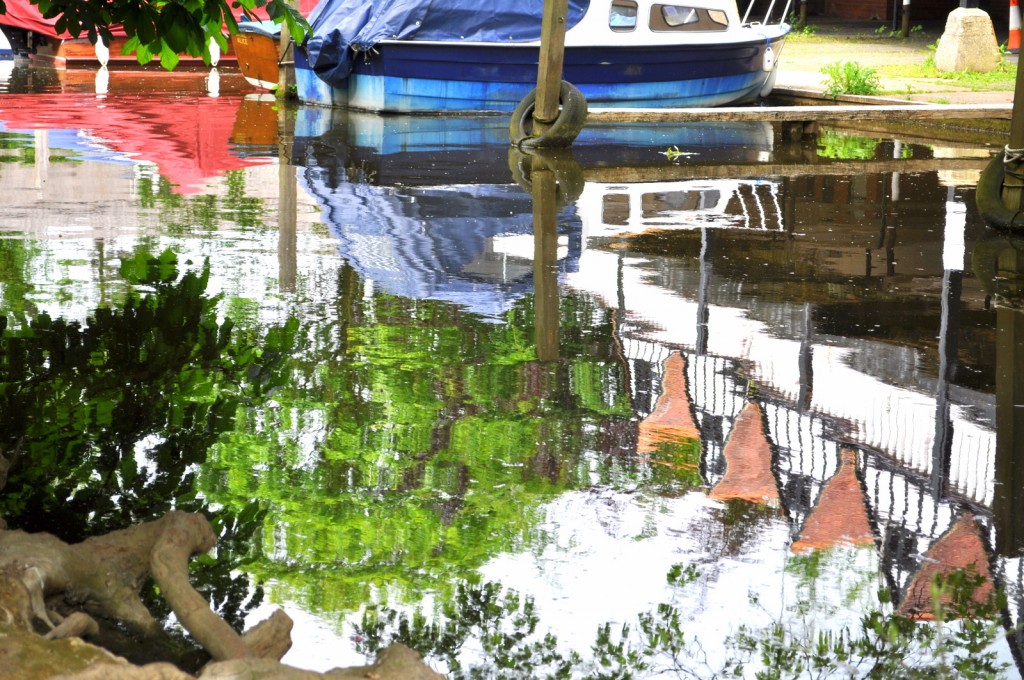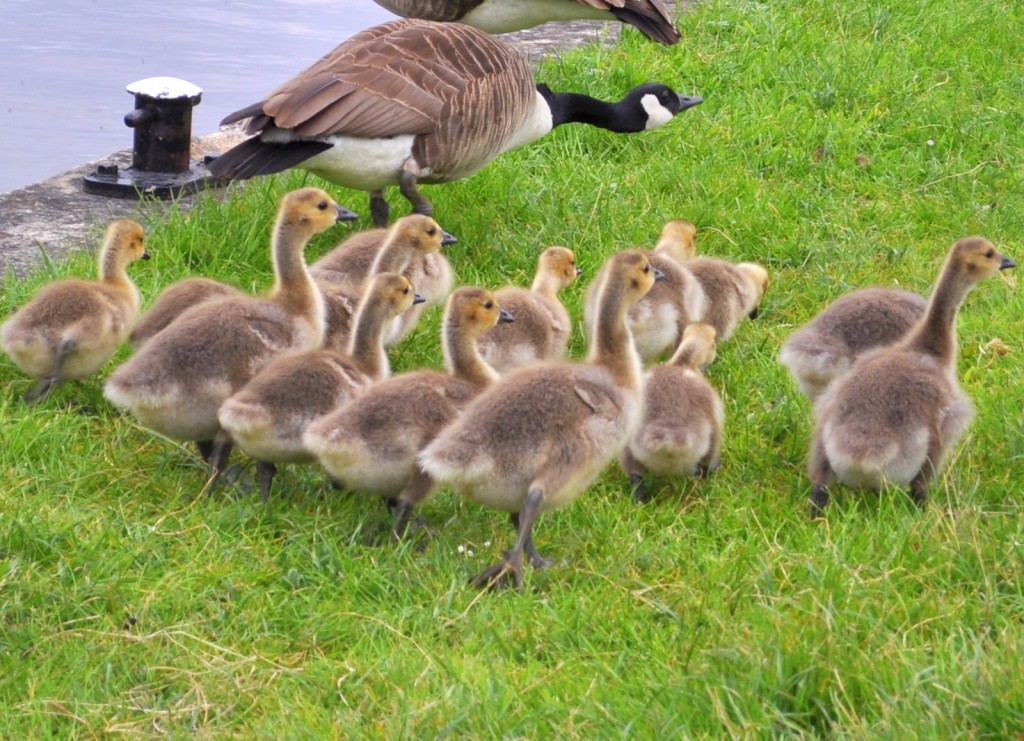 The goslings scurried away, and the geese cautioned us. The swans just glided nonchalantly across the water with one sneaky signet catching a ride.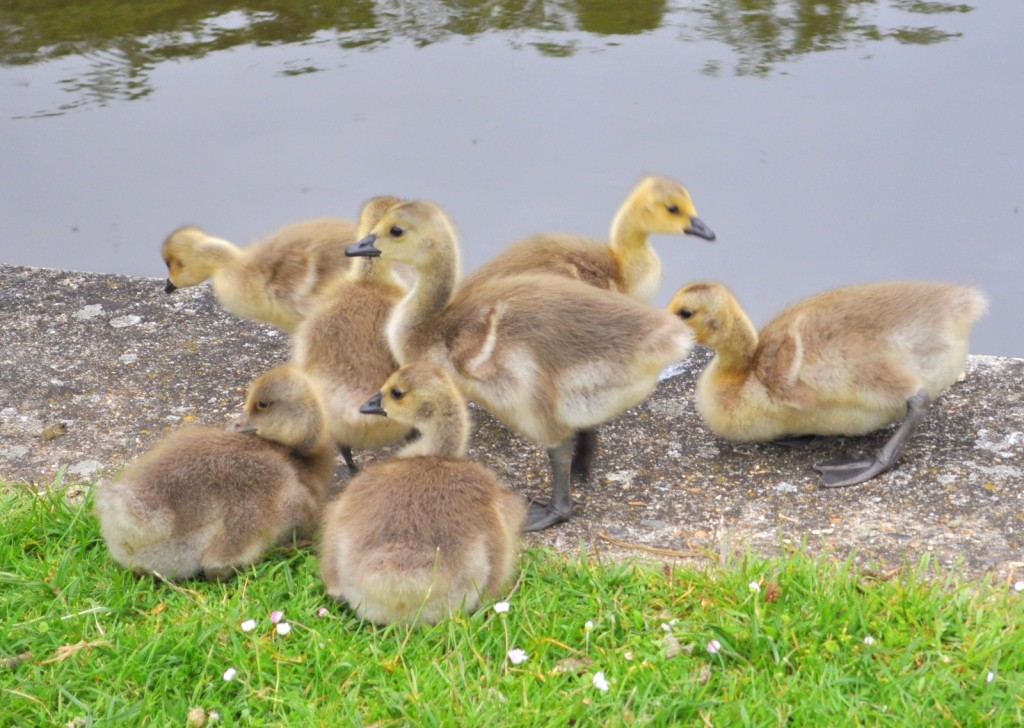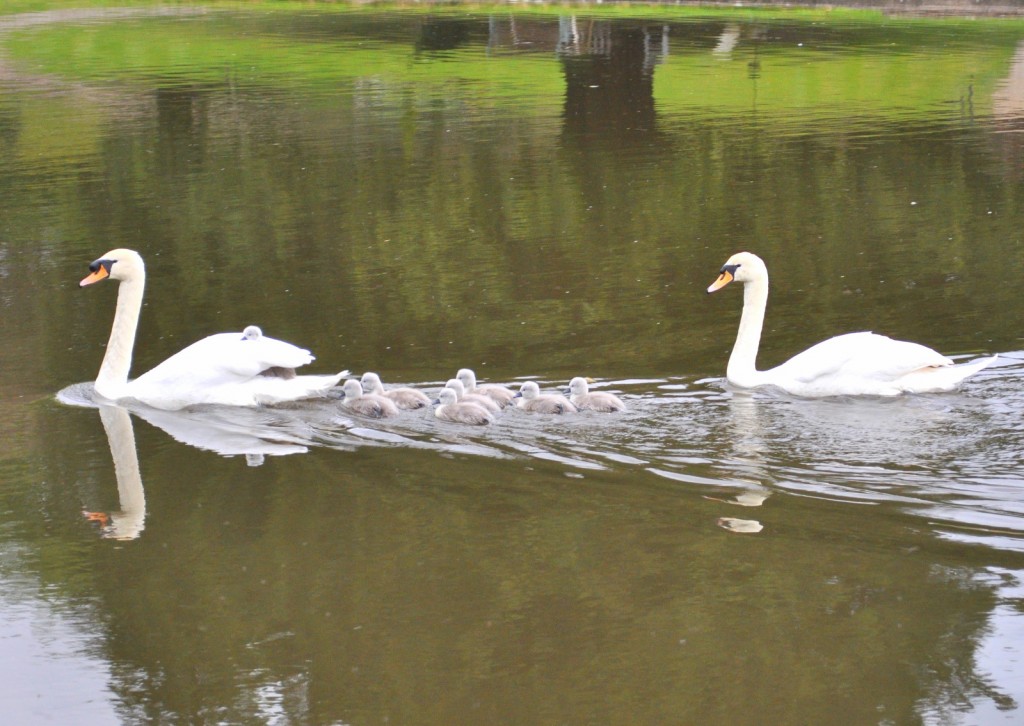 But, of course, being so close to water does mean that all things revolve around it, in it and across it. Buttercups were starting to flourish in the meadows and sheep were grazing on the grass along the river banks. Boats were moored up at random along the water's edge. I saw one playful couple having a game of badminton on the pasture close to their small river cruiser. Youngsters could be heard yelling with excitement as they battled to stay dry in their rowing vessel and a hum of an engine could nearly always be heard, somewhere close by. During one evening's walk we spotted an attractive bright orange growth on the side of a tree; some kind of fungus, I guessed. It looked as though someone had hacked a chunk off and we pondered if it was edible. I know very little about such foods and we left well alone. The air was so still on another occasion that the river reflected images as a mirror. Along one section of the Thames, south of Goring, trees had been lopped to give better visibility for those on the water as well as those of us on land. They became accidental sculptures.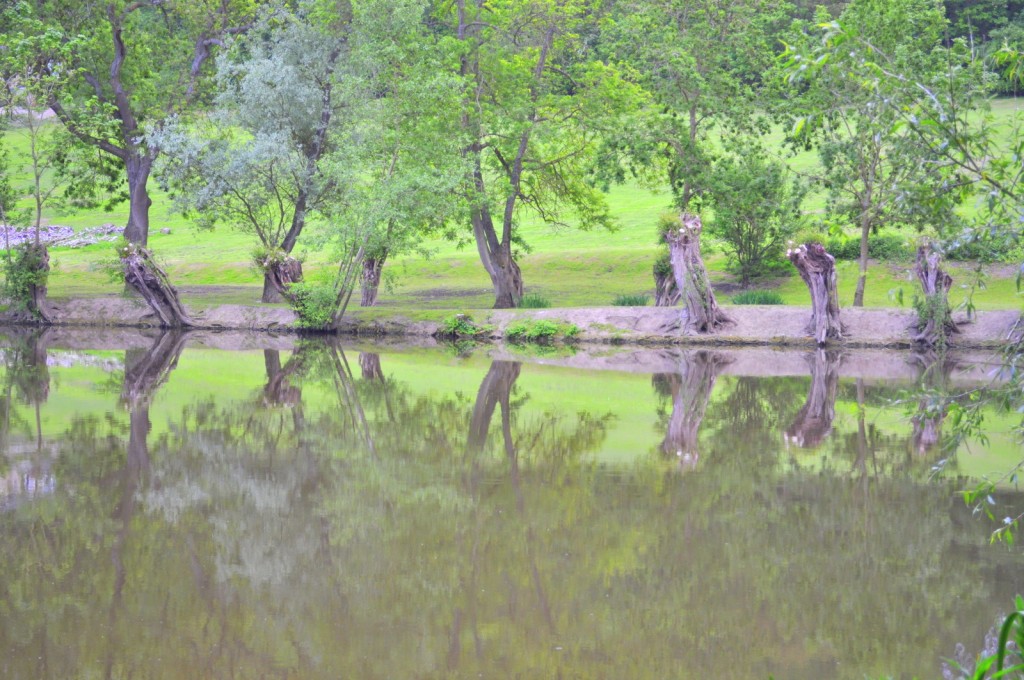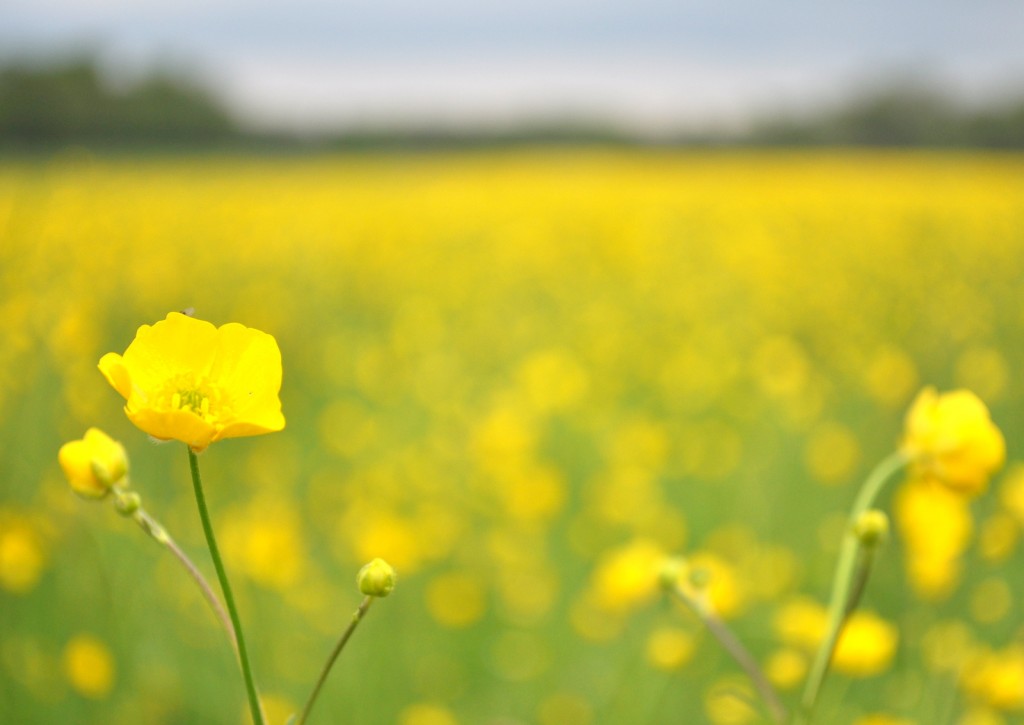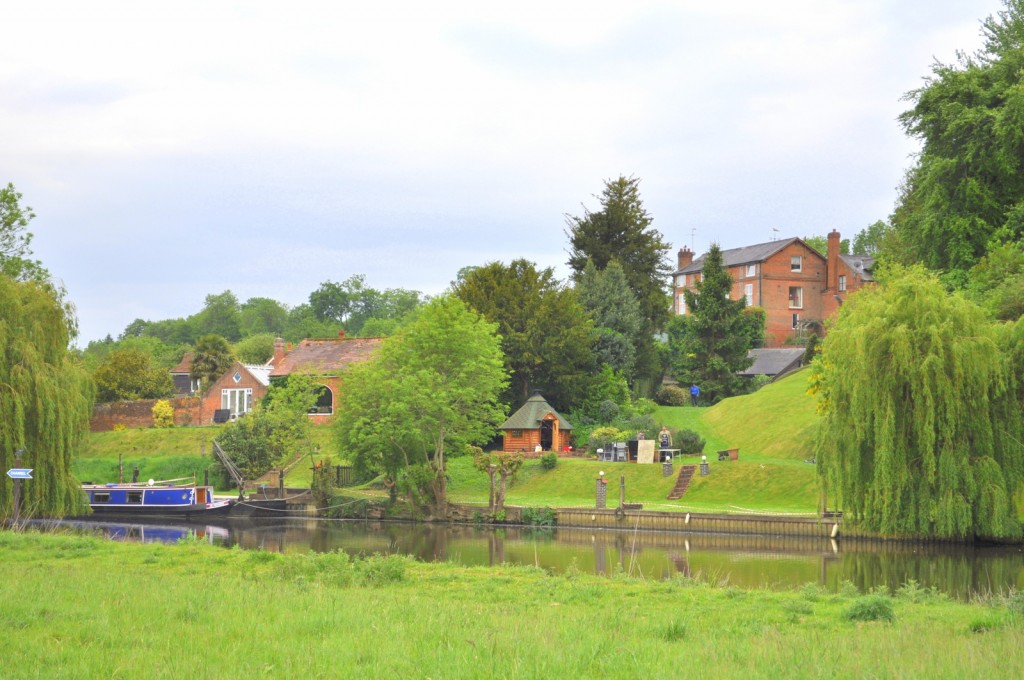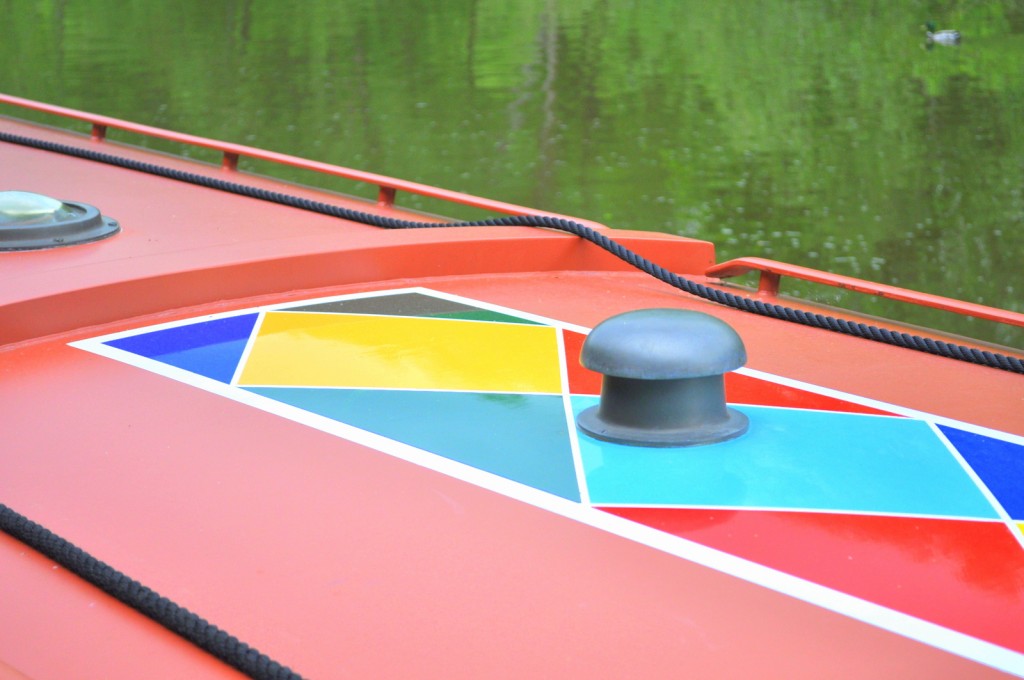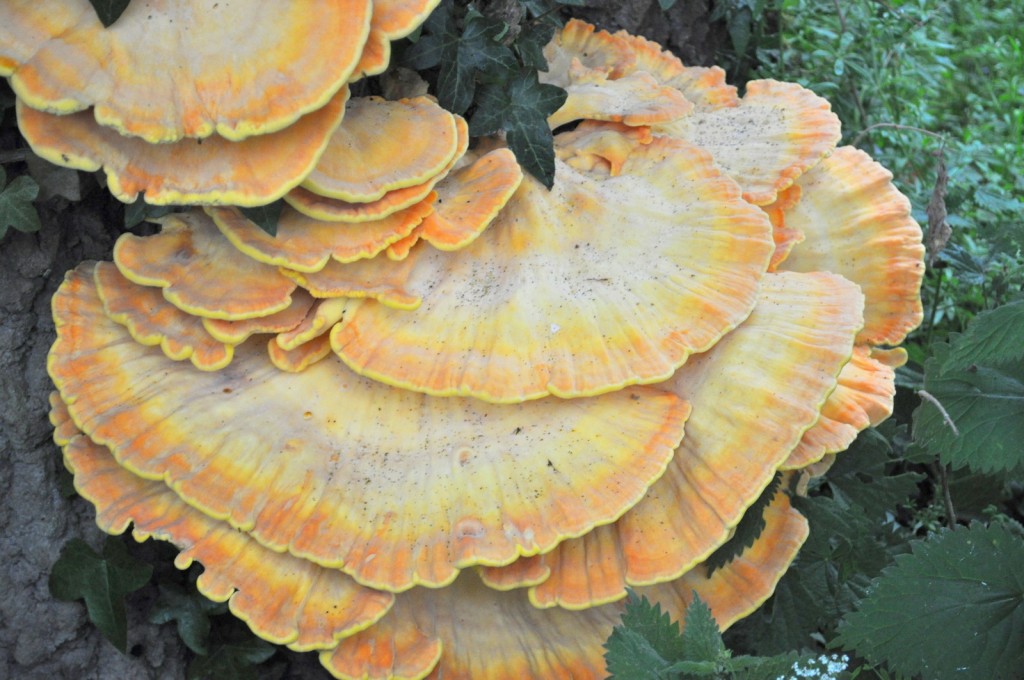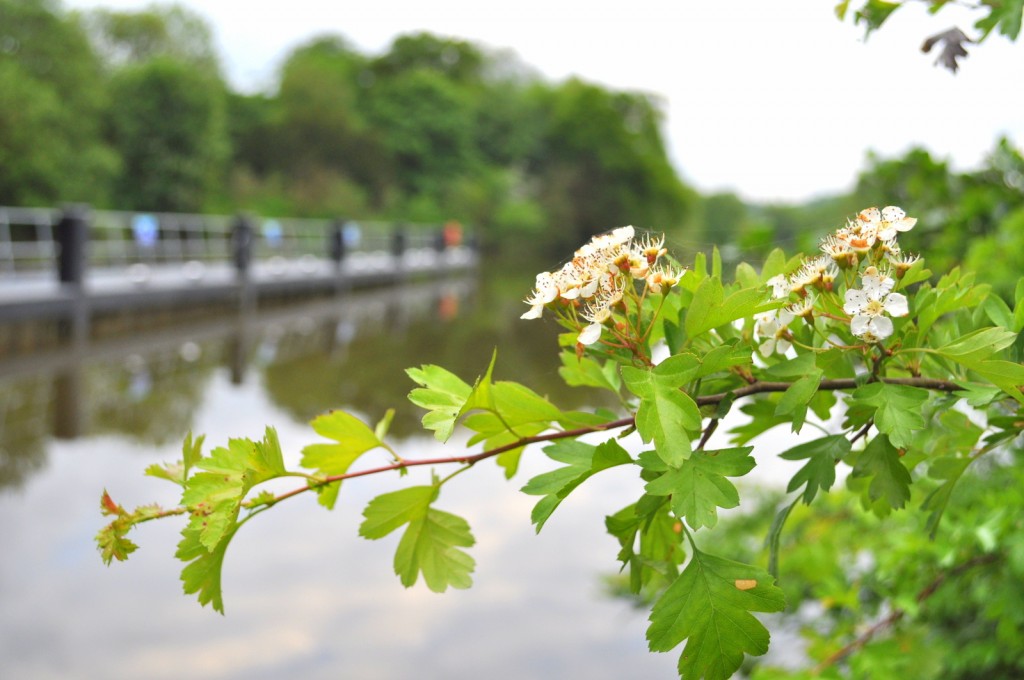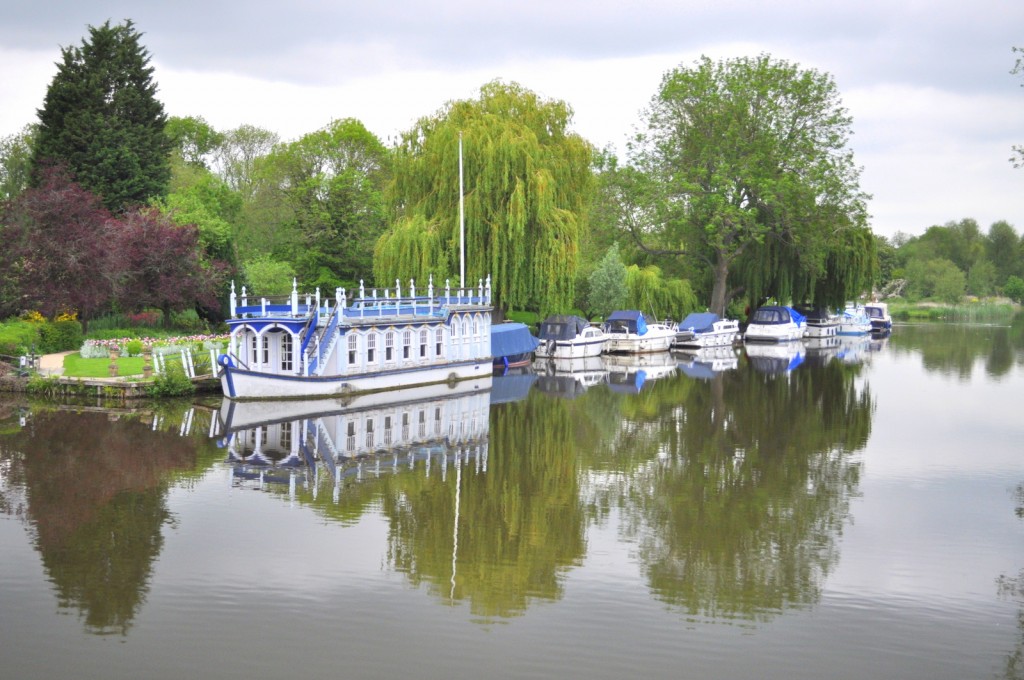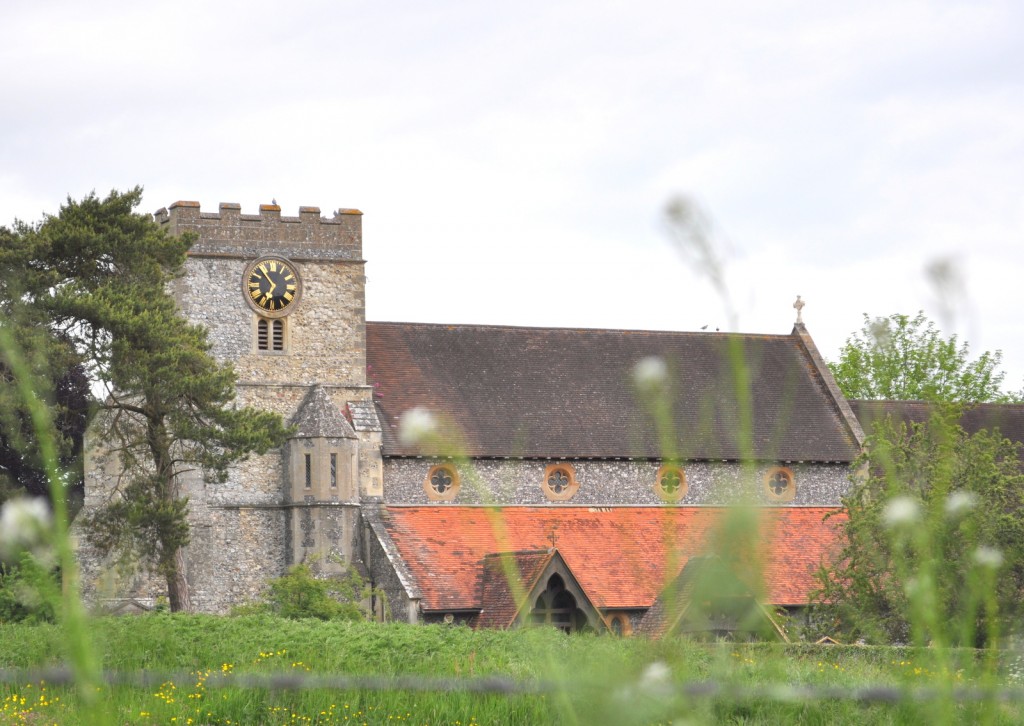 With a railway station on the main network line between Oxford and London, Goring is easily accessible for visitors and commuters. And, if you do find yourself spending some relaxing time in Goring, I can recommend a friendly place to eat; whether this be just for a slice of delicious homemade cake and hot coffee or a more substantial lunch time fuelling. Pierreponts café, which is a mere one minute walk east of the Goring and Streatley bridge, is open for breakfast from 8am and closes it doors at 5pm. From porridge and full fried English breakfast to tasty wholesome snacks and lunches, there is freshly made, home cooked food to suit most tastes. For a sweet treat, during our morning coffee break, I enjoyed the delicately light and creamy, custard, maple syrup and hazelnut tart; I would recommend this one The brownies were very tasty too, so the children confirmed, and it all looked wonderful. We were fortunate that the sun was shining and an outside table was vacated just as we approached. Cake, coffee, family and sun, and all at the same time; what more could a girl want? Actually, I almost forgot to mention that there is a small, but well stocked, art gallery in the village; simply called Art at Goring. If you love art, as I do, then this gallery is worth a visit.
There is more to come about our family trip away, but I thought sharing the delights of our accommodation location was a good place to start.
Diane x
---