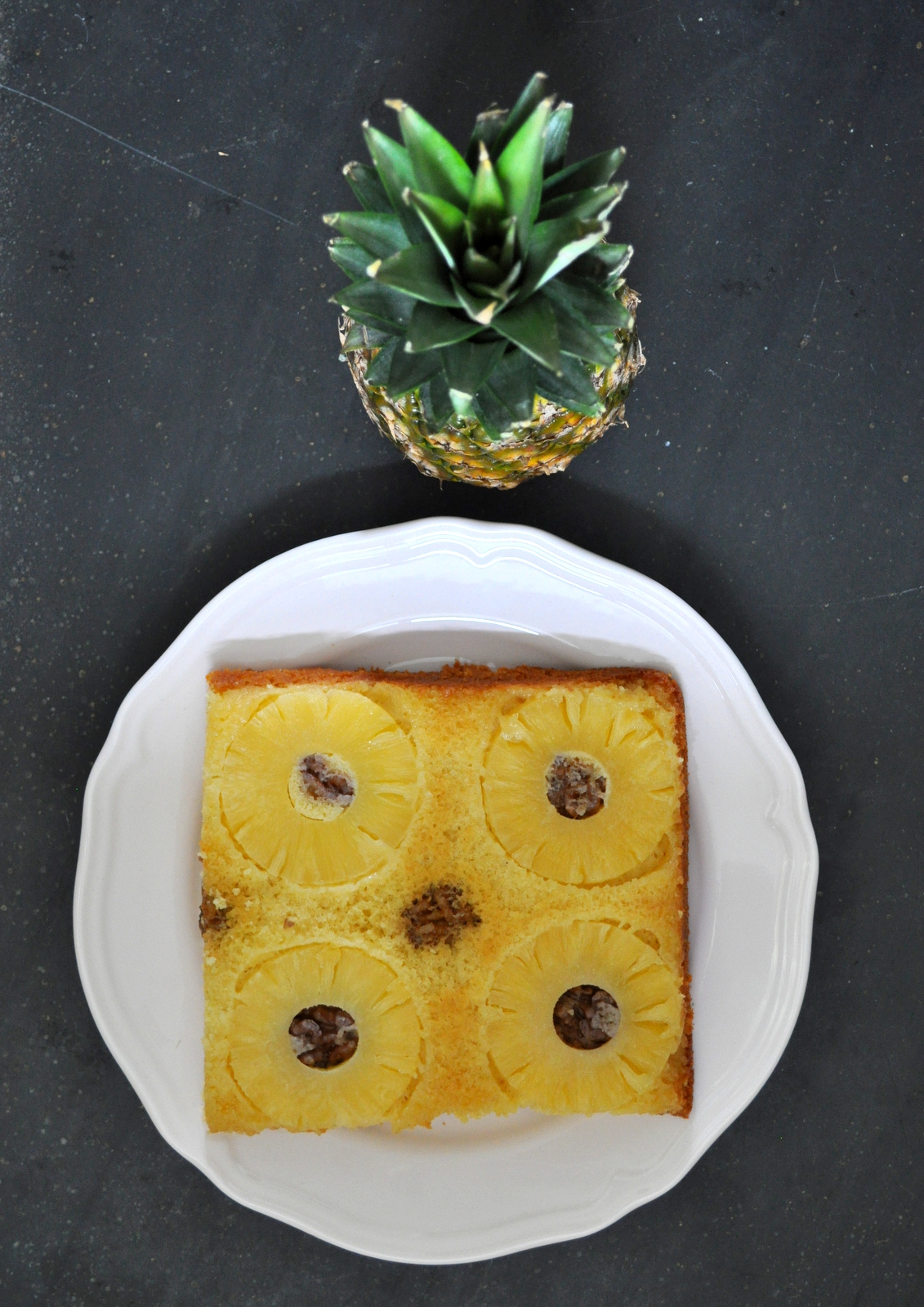 I roasted a ham the other day and my darling man does like a slice or two of pineapple with it, the  girls and I don't. At the time I did not have a juicy fresh one, but I did have a tin of pineapple slices in juice. In juice is fine but I would advise against using pineapple from a tin if in sugary syrup. So I opened the tin and dressed some of the slices of ham with rings of pineapple and I had one happy boy! But what to do with the rest of the fruit as there were several spare slices? There was not too much contemplating. With the sun shining and holidays being dreamt of – and having had cocktails at a friend's recent birthday party – I thought of pina coladas. A refreshingly naughty drink that belies its gem that is so cleverly disguised with pineapple juice and coconut – I had my solution. It had been a long time since I made an upside down cake and as pineapple works just as well as apple I thought why not! And as pineapple and coconut are so tasty together in pina coladas I thought they should surely complement each other as a dessert and my coconut ice cream was born. All I needed was the cocktail umbrellas and a few hungry friends!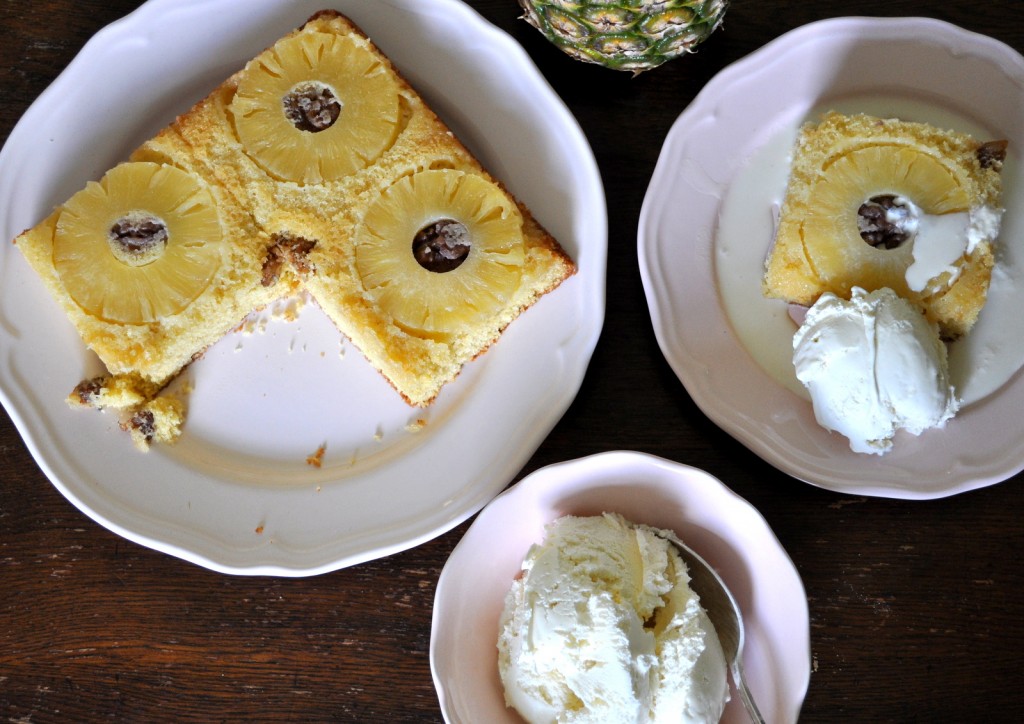 Pineapple Upside Down Cake recipe as I promised in my previous blog.
For the cake:
I used a 28cm x 18cm (11×7″) cake tin
approx. 25-50g (1-2oz) very soft butter and 2-3tbsp golden granulated sugar
8 pineapple rings
8 whole walnuts
225g (8oz) softened butter
225g (8oz) caster sugar
225g (8oz) self raising flour
1tsp baking powder
4 large eggs
1tsp vanilla essence
Preheat the oven to 180°C (160°C fan oven) mark 4
Spread the very soft butter to cover the base of the tin. Sprinkle over the granulated sugar to coat. Arrange the pineapple slices in two symmetrical rows and place a walnut in the centre of each ring and use the spare to decorate in between the slices. You could use glace cherries instead – if you prefer – for a more authentic pina colada taste, but I like the crunch of the walnuts which I think work so well with the sweetness of the pineapple and vanilla sponge of the cake.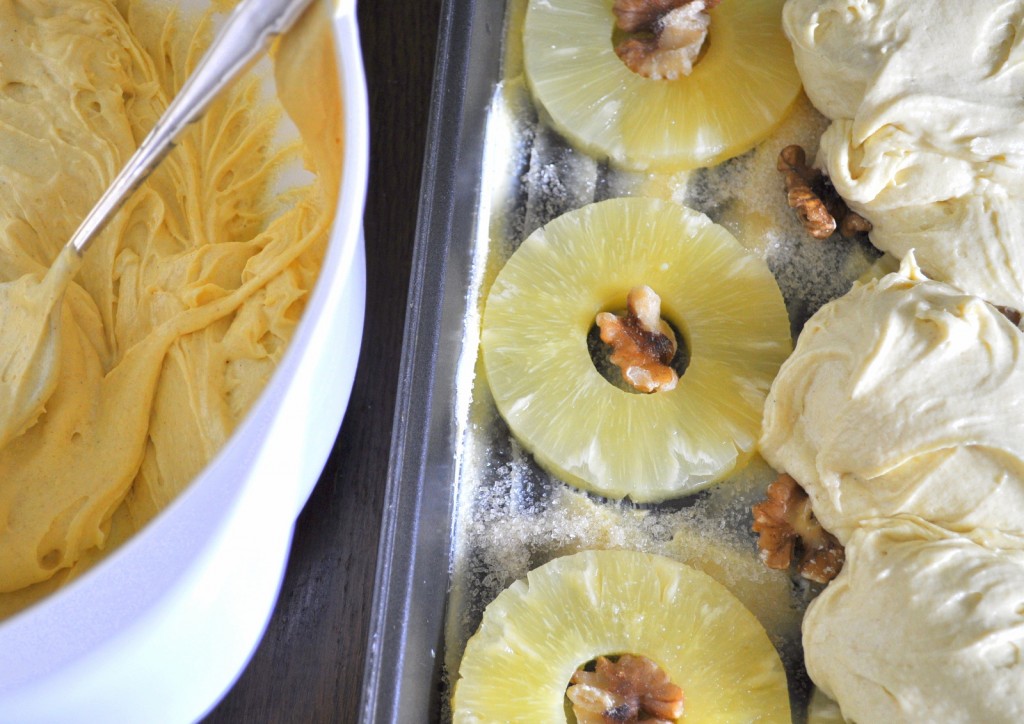 In a large bowl mix the butter, caster sugar, flour, baking powder, eggs and vanilla essence together, either with an electric mixer or by hand (with the creaming method of butter and sugar together first, beating in the eggs bit by bit and then folding in the dry ingredients and essence). Spoon the well blended cake mixture over the fruit and nuts, level and bake in the pre heated oven for approximately 30-40 minutes until spongy to the touch and an inserted  skewer is retrieved clean. Leave in the tin to cool for 15 minutes and then turn out onto a wire rack to cool completely. This can be served immediately as a slice of cake on its own or with a dollop of cream.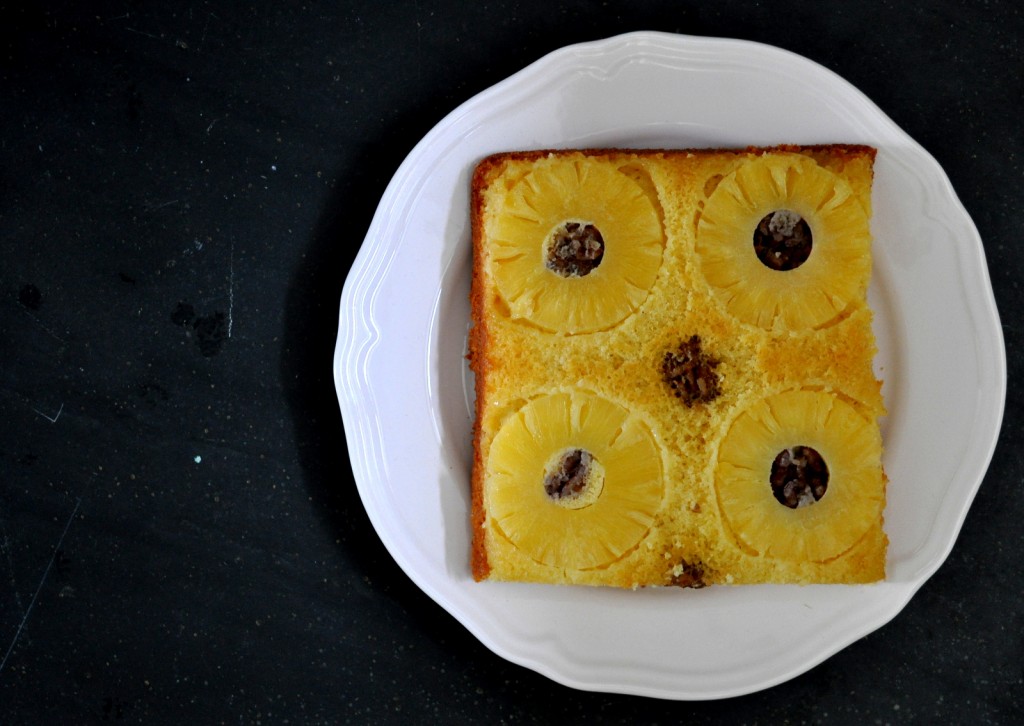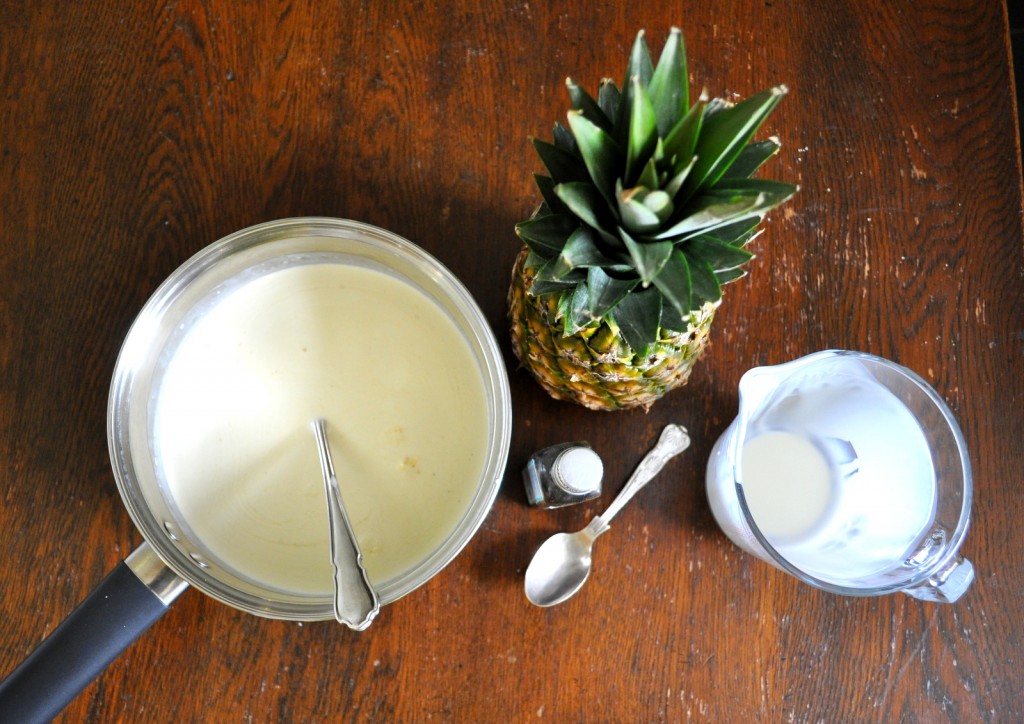 For the creamy coconut ice cream:
225ml (8floz) coconut milk
50g (2oz) caster  sugar
225ml (8floz) double cream
1tsp vanilla essence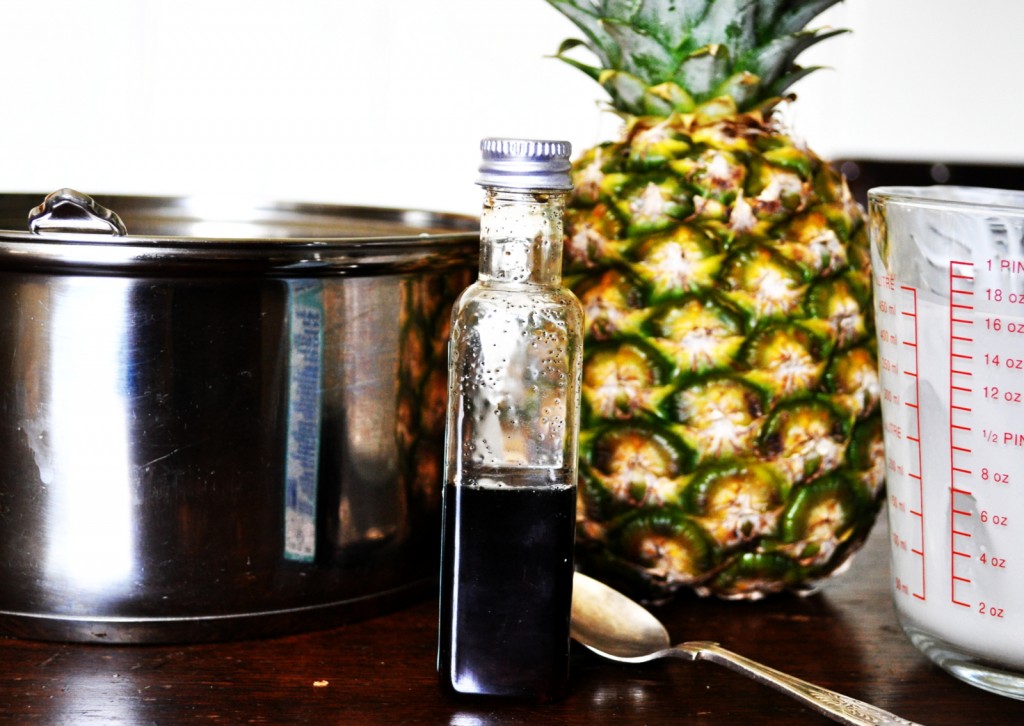 In a saucepan warm the coconut milk and caster sugar together just until the sugar has dissolved. Remove from the heat and cool. Then stir in the cream and vanilla essence. Pour this into an ice cream maker, if you have one, and churn until thick and creamy – my ice cream maker always lets me know when it is ready! Put this into a bowl to serve immediately – similar to that of a soft scoop – or spoon it into a container and freeze. Remember that, like all home made ice creams, you need to take it out of the freezer about 20 minutes before you need to serve it, otherwise you may need a very strong scoop.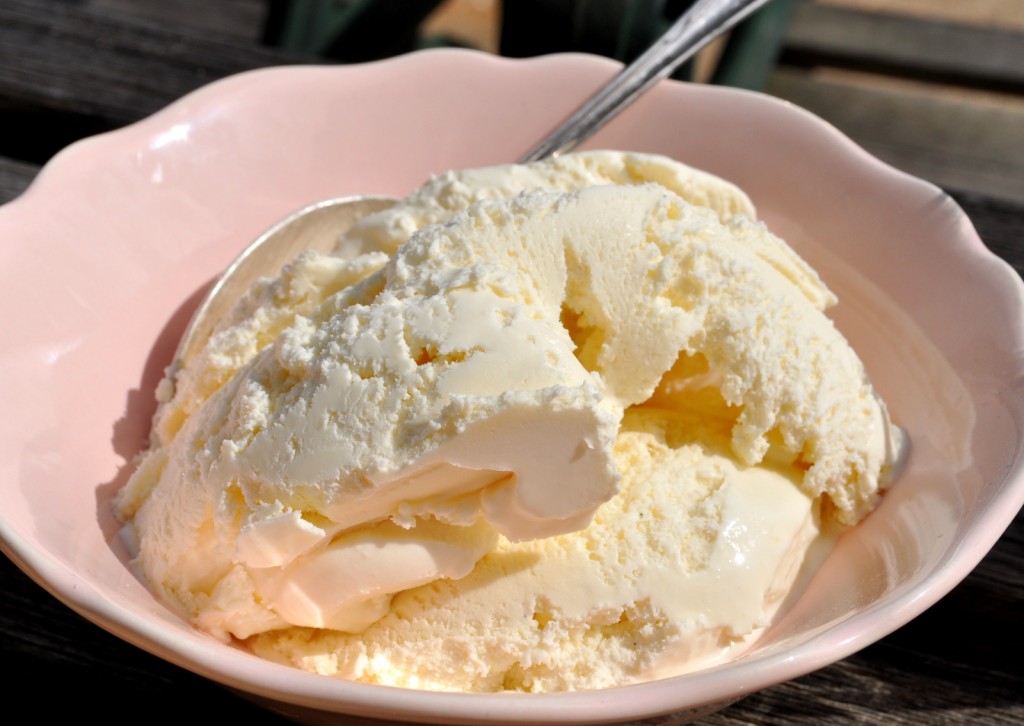 No worries if you do not have an ice cream maker – it can all be done by hand – just a little more time and muscle needed. While the coconut milk and sugar sauce is cooling whip the cream and essence together to form a soft, not firm, consistency. Fold in the cooled coconut and dissolved sugar and pour into a freezer proof container, then pop it into the freezer. When it starts to freeze around the edges (approx.1hour) remove it from the freezer and place the ice cream into a bowl. Beat it with a fork to break down the crystals. Put back into the container and freezer. Repeat this a couple of more times until creamy and fluffy, to your liking.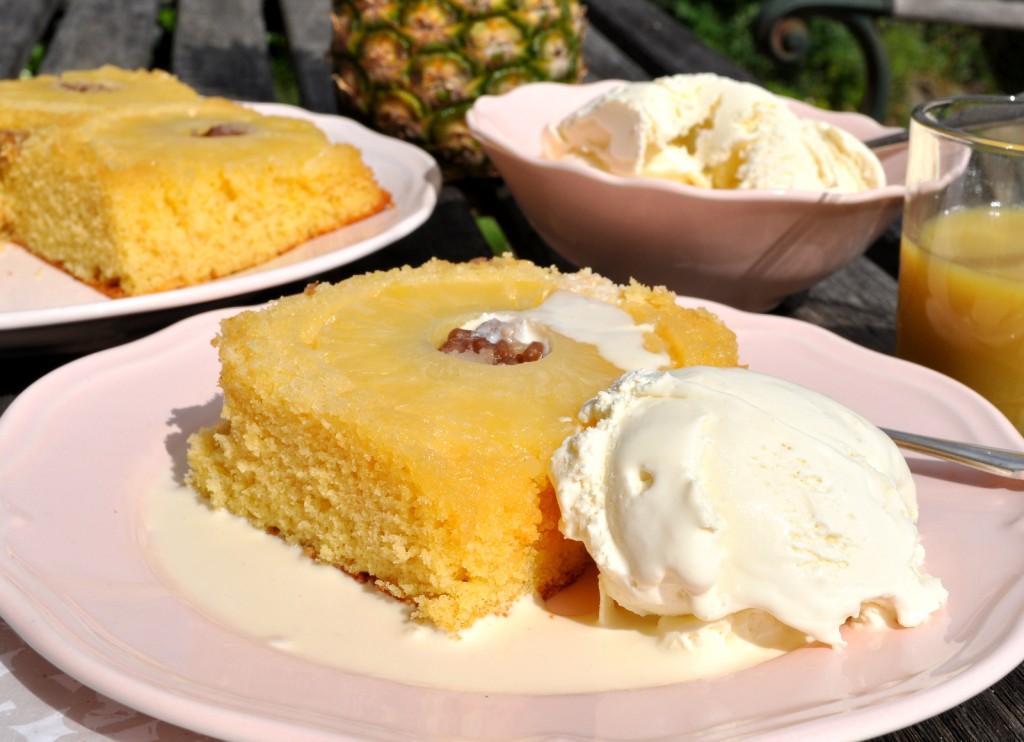 When serving this as a dessert or special treat slice into portions and serve with a large scoop of coconut ice cream and drizzle some pouring cream over. Decorate with some cocktail umbrellas, if you have any to hand. For a little grown up indulgence I see no reason why you should not spoon a little white rum over the cake to taste and have that true pina colada experience. Close your eyes and dream of glorious holidays in the sun!
Serves up to 12 (depending on whole or half pineapple portions)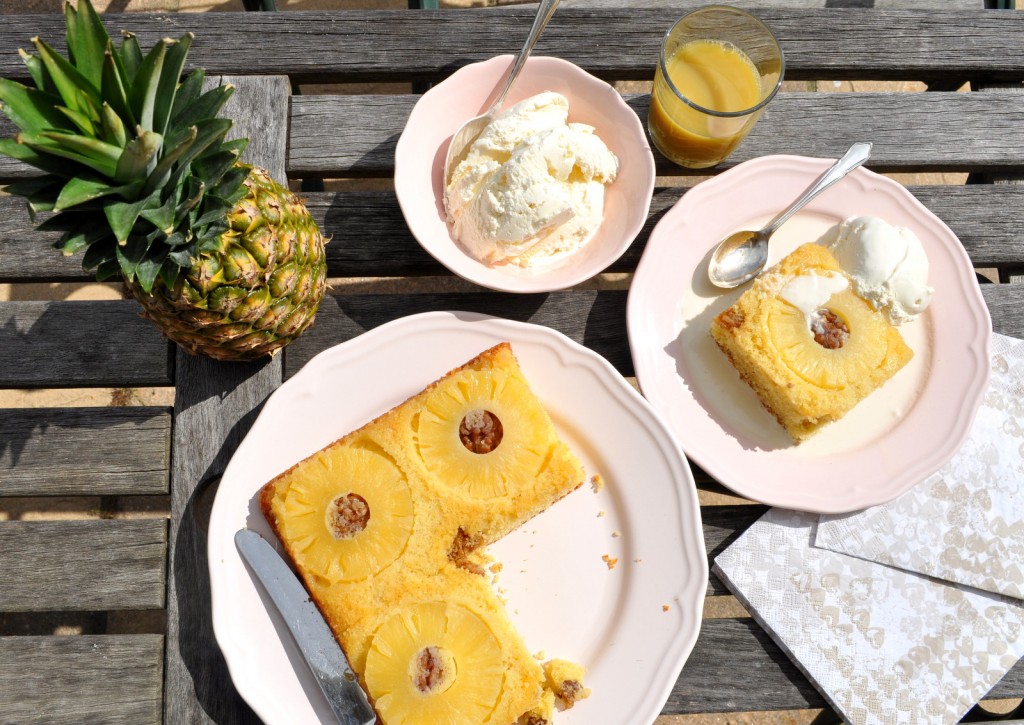 If you find yourself with some coconut milk spare – a tin of coconut milk contains more than 225ml – then make another batch of ice cream or one big one. If making a second batch add an extra flavouring such as a drop of white rum and some chopped up pieces of pineapple and you will have pina colada ice cream for grown-ups. I think I will be making this one again very soon going by the happy adult smiles.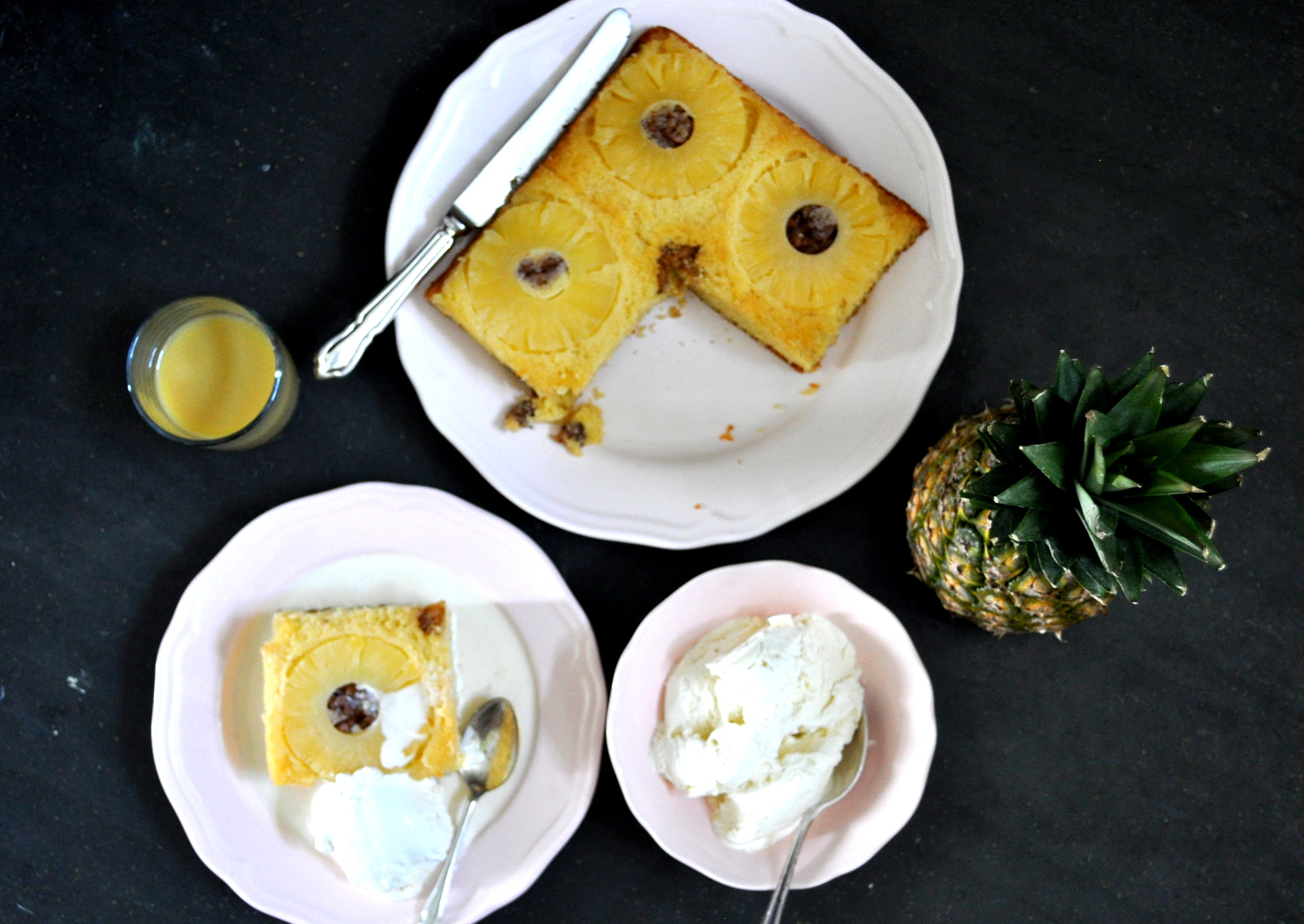 Ice cream and cake are enjoyable where ever you are – in the garden, at the kitchen table or on holiday – there are always happy faces to be seen!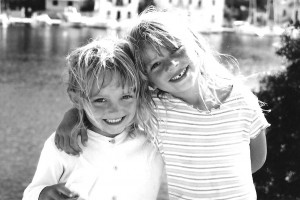 Diane x
---