When we were away last week, sometimes in Berkshire and sometimes in Oxfordshire, it was my mother's birthday. We did feel a little guilty at leaving her at such a special time, but it was the first opportunity this year for us to steal time away with the children. It was half term week and not one of them had another commitment; the eldest went skiing during the Easter break in April; my younger daughter has had a couple of practice runs for her bronze Duke of Edinburgh Award; and February half term was just too chilly to contemplate a holiday. Mum understood, I think. She did ask if there was room in the car though; I think she was joking! We have a five seater car and with my two, my wonderful partner, his son and me that makes five and the car was full. So, to compensate for our absence, my daughters decided to make grandma a birthday cake. After a little discussion we all agreed that grandma's favourite cake, the one that she nearly always orders when we take her for morning coffee, is coffee and walnut cake, and that it would be wonderful if the girls created their own variation, with a little help from me, of course. This was the moment when grandma's cappuccino and walnut cake was born – two coffee and walnut sponges sandwiched together and topped with a creamy butter icing, then finished with a dusting of chocolate powder; just as you would expect to find your hot cappuccino.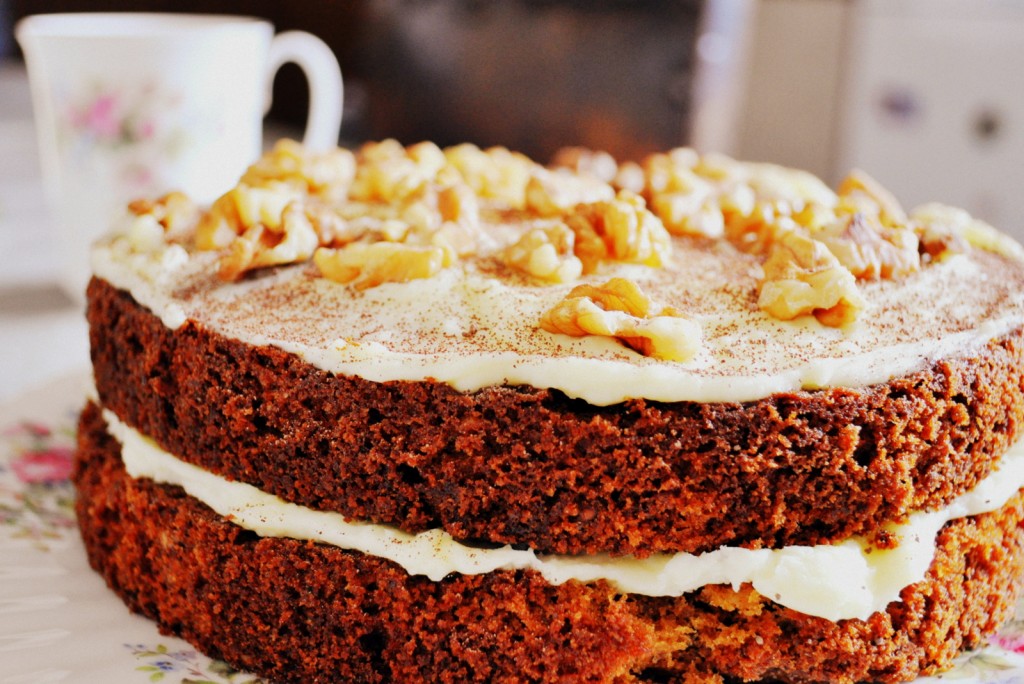 My daughters used and you will need:
2 x 19cm (7.5″) round sandwich cake tins (or very similar), base lined with baking paper
200g (7oz) butter
85g (3oz) caster sugar
85g (3oz) light soft brown sugar
200 (7oz) self raising flour
1tsp baking powder
3 eggs
50ml (2fl.oz) coffee essence or 3tbsp strong black coffee (espresso would do nicely)
25ml (1fl.oz) milk
50g (2oz) chopped walnuts (plus approx. 25g (1oz) extra for decorating)
Pre-heat the oven to 180°C (160°C fan oven) mark 4 
Put all the ingredients, except the nuts, into a large mixing bowl and with an electric mixer cream together for a few minutes (approx. 3), until thoroughly blended. Stir the 50g of chopped walnuts into the cake mixture. (If preferred, this can all be done by hand by beating the butter and sugar together until pale and creamy, then adding the eggs a little at a time, beating well after each addition. Once thoroughly mixed add all the other ingredients and fold through.)  Divide this between the two tins and put them into the oven for approximately 25 minutes. A skewer, when inserted into the cakes, should return dry and the cakes should be spongy to the touch. After 5 minutes turn the cakes out of the tins and cool on a wire rack. In the meantime the filling and topping can be prepared as follows.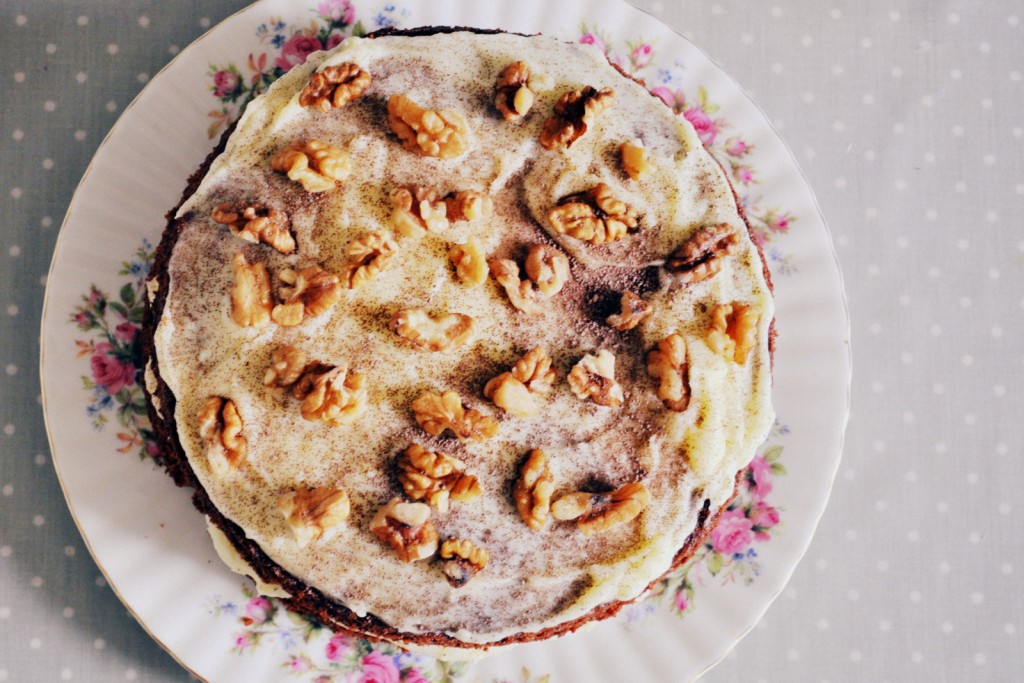 For the creamy butter icing:
340g (12oz) icing sugar
150g (5oz) butter, softened
1tsp vanilla essence
2tbsp double cream
the walnuts saved back from earlier
1tbsp cocoa powder
In a large bowl beat the butter and icing sugar together until blended, then add the vanilla essence and cream and combine. (The latter two ingredients can be added earlier if the butter and icing are not blending well.) When the mixture is creamy and the cakes have cooled, sandwich the cakes together with two thirds of the vanilla butter cream. Spread the remaining third of the butter icing over the top of the sandwiched cake. Scatter over the reserved chopped walnuts and finish with a dusting of cocoa powder. Serve in slices on its own or with a little pouring cream.
Grandma loves a hot cappuccino and she confirmed that she enjoyed it all the more with a slice of her special birthday cappuccino and walnut cake. Happy birthday to grandma x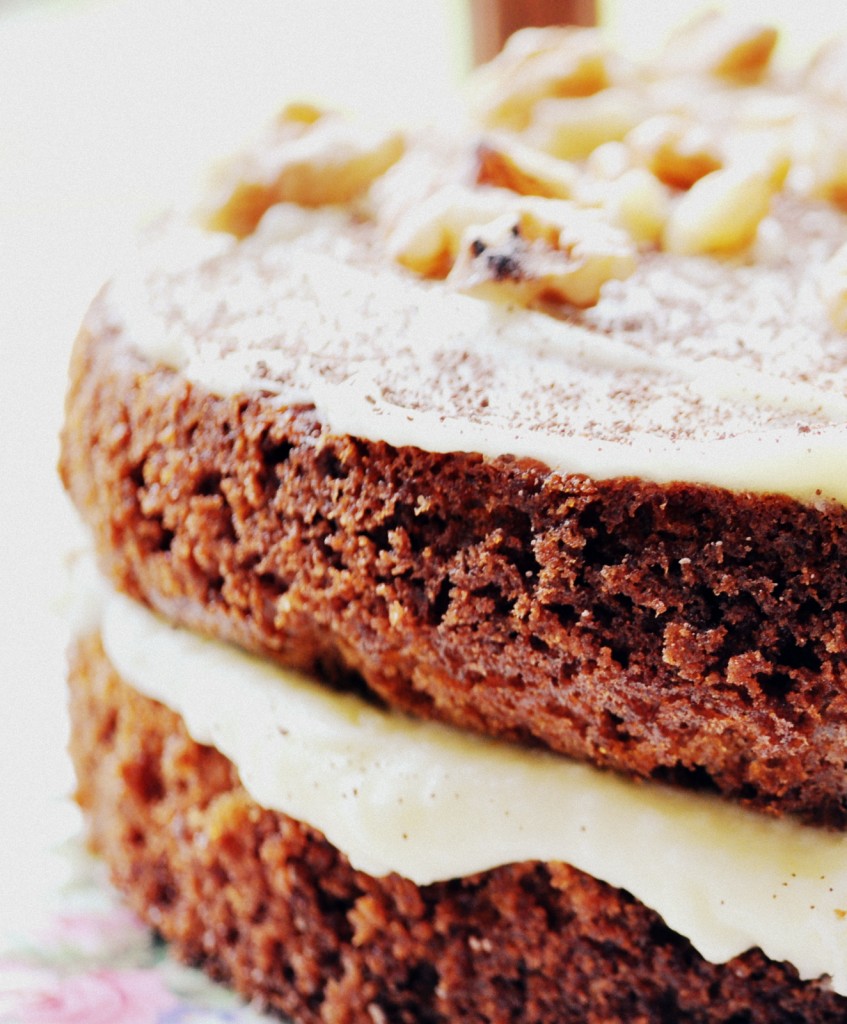 The girls were a little camera shy when making grandma's cake this time around. It was a very different story a few years ago when they giggled their way through baking a surprise for grandma. There is always a laugh to be enjoyed when girls get together in the kitchen. Actually, if I am truthful, there have been some tears too; when too much baking powder was put into the brownie mixture and it exploded in the oven, when the Victoria sponge was flat as a pancake because not enough baking powder was added, and when the biscuits burnt because they were forgotten about when in the oven. But that is life in the kitchen – a surprise every time!
Diane, India and Clementine x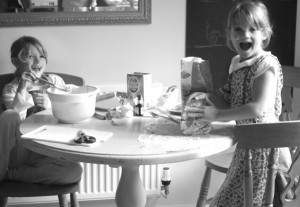 ---